Bobbi Brown Denim and Rose Face Palette & Mini Brush Set (2010): From Nude to Rock n' Roll, Bobbi Style {Beauty Notes - New - Makeup - Color}
Bobbi Brown
launched a new limited-edition color palette for the face called
Denim & Rose
which comes with, if you so wish to purchase it as well, a companion complementary
Mini Brush Set
meant to be carried in your bag or, as they suggest, kept in your office drawer.
The concept for the makeup look is that of the "
beauty equivalent of dressed-up denim
," which also means that it's meant to flow easily from day to night wear.
The palette caught my eye because I thought the colors look original and distinctive without being theatrical and dramatic (there is a time for everything.) It also is a plus that Bobbi Brown, the specialist of endless variations on natural-looking nude and taupe colors, show they can be subtly edgy...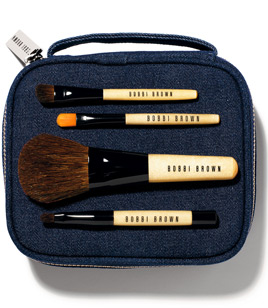 I wouldn't go as far as feeling that it creates a rock n' roll style as they advertise, but within the range of sophisticated taupes which we find chez Bobbi Brown, it does feel like it's throwing some caution to the winds.
The colors are described as "
deep, shimmering blues and icy greys and pinks for eyes and fresh rose shades for lips and cheeks
." They look superb on paper.
What's in the palette of 9 shades for eyes, lips and cheeks:
Navajo Eye Shadow
(a creamy pinkish white)
Grey Denim Eye Shadow
(a medium cool grey)
Pink Granite Sparkle Eye Shadow
( a marble grey-pink)
Dark Rinse Shimmer Wash Eye Shadow
(a deep bright blue)
Pink Rose Blush
(a medium pink blush)
Cool Rose Creamy Lip Color
( a medium bright pink shimmer)
Hot Rose Lip Gloss
( a bright pink)
Iced Lilac Glitter lip Gloss
(a silver pink marble)
Indie Rose Creamy Lip Color
( a medium neutral rose)
Price: $60 ; Size: 3.5" L x 3.75 W x 1" H
The Denim & Rose Mini Brush Set is also a limited-edition. It includes:
Mini Blush Brush
Mini Lip Brush with Cap
Mini Angle Eye Shadow Brush
Mini Eye Liner Brush
Price: $55 : Size: 5" L x 4" W x 1.5" H.
Both available at bobbibrowncosmetics.com