Lush Silk Stockings, Black Stockings (2010) and No, They're Not Nylon {Beauty Notes - New - Body Makeup - Olfaction}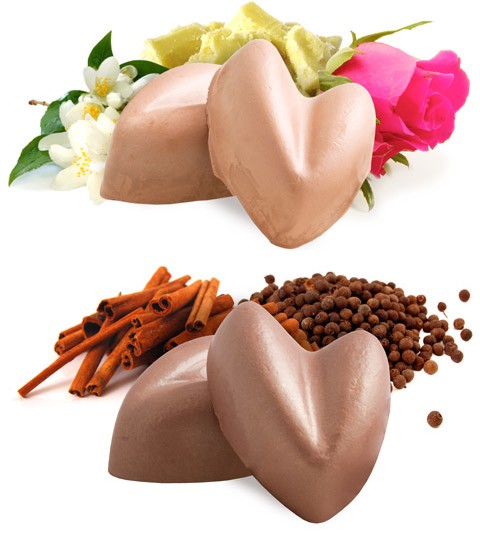 Lush
just released a new duo of cool solid body tints for the legs called
Silk Stockings
(lighter shade) and
Black Stockings
(darker shade). As one user suggested on the brand's website, you can go crazy and decide to mix the colors, or better stilll paint your legs with darker vs. lighter highlights. Apparently they hold well, do not stain and smell good. Did you know incidentally that an ace perfumer like
Sophia Grojsman
(White Linen, Beautiful, Paris, Eternity, Trésor etc.) recommends perfuming your legs for an interesting effect of upward diffusion motion? So, this kind of beauty gesture is recommended both from a color angle and a scent one...
Silk Stockings
is said to be for paler skin. This is summer, but basically, it's a winter beauty tool when you're at your palest. It's scented with jasmine absolute, rose absolute and sandalwood oil and boasts aphrodisiac properties. I mean, isn't starting to sound like there might be too much of a good thing in just this one product? Next, they are going to tell you it can walk your dog too. I'll let you be the judge.
"
Jasmine is a very fragrant aphrodisiac. Its deep scent captures the mind and stimulates the senses
." It actually reprises the scent of their Fever Massage Bar (the ones with a crimson mouth on them.) The heart-shaped body tint is meant to melt onto your skin and is composed of shea butter sourced from Ghana for a moisturizing effect.
Black stockings
is a milk chocolate color for darker skins or for a sun-kissed effect and is scented with cinnamon oil, pimento oil and orange oil. It is supposed to leave a tingling sensation on the skin and I believe can have some medicinal effect as pimento oil is said to be good for treating muscular pain.
Each solid is priced at £7,50 for 30 g. At the moment, I see them for sale only on the British website. On the US one, they offer the previously released organic-grade
Charlotte Island body tint
in liquid form ($14,95 for 8.4 fl. oz), which is scented with a fruity tropical perfume.