Katy Perry Purr (2010): California Gurls Meet Catwoman {New Fragrance} (Celebrity Perfume}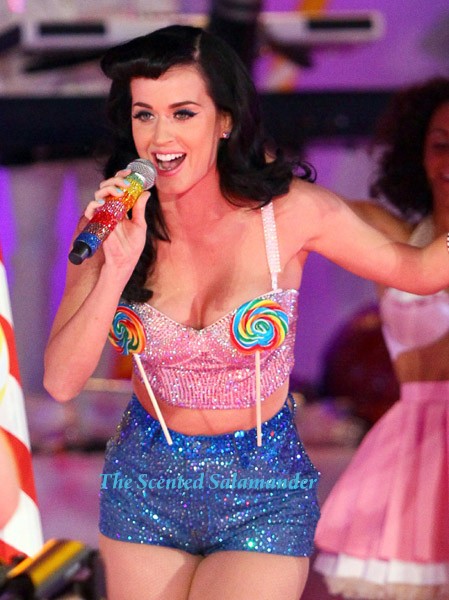 Pop singer
Katy Perry
will launch her debut signature fragrance in November 2010. It is called
Purr
and is inspired by a sartorial accessory, a catwoman suit of hers, as well as clearly the oh-so-fun over-the-top candy-park theme of her song California Gurls which gives its title to her first single album to be introduced in August (video after the jump.) Perry, it turns out, is no novice when it comes to perfume, personally owning at least 50 bottles of fragrance. She also has precise ideas about what she likes promising that after Purr there will perfumes based on her favorites fruits. When you look at the video of California Gurls, you get a sense it's not just about candy and fruits but about a whole coherent aesthetics.
"
I'm very inspired by the Japanese world and all things completely cute," she said. "All things edible for me are also intriguing. So if there are little dancing strawberries, I will be happy. Peppermint is cute; cotton candy is adorable. We like to keep it cute and classy
,"...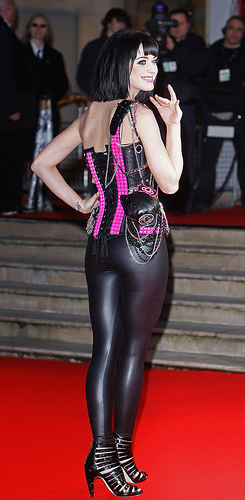 She also worked the fragrance aisles like a pro and explains what her tastes are like,
"
I'm not embarrassed to say that I went out and bought [Beyoncé Knowles' first scent] Heat and Kim Kardashian's scent earlier this year. I've worn Clinique Happy, Ralph Lauren's Romance and Chanel's Coco Mademoiselle. My sense of smell is so important to me. A guy can walk into an elevator wearing Acqua di Gio, and I'm immediately like 'You're my first boyfriend.' I want my fragrance to have that effect on people
."
In keeping with the catwoman suit visual and the name, the bottle for Purr is said to be cat-shaped with "...
jeweled eyes, metallic accents and opulent lavender shading
." Perry is also a big fan of Gwen Stefani. For perfume-making, it's the series of Harakuju Lovers that she sees as a model to emulate.
Purr was created in collaboration with Firmenich. It opens on top notes of peach nectar, forbidden apple and green bamboo; the heart rests on jasmine blossom, pink freesia and Bulgarian rose; the drydown includes vanilla orchid, white amber, creamy sandalwood and musk.
Prices: 1 oz. for $36, 1.7 oz. for $45 and 3.4 oz. for $65
Via
WWD
2nd pic:
oouinouin
You can watch a video of California Gurls,