First Look at the Outer Packaging for Jennifer Aniston EDP The Debut Fragrance {Perfume Images & Ads}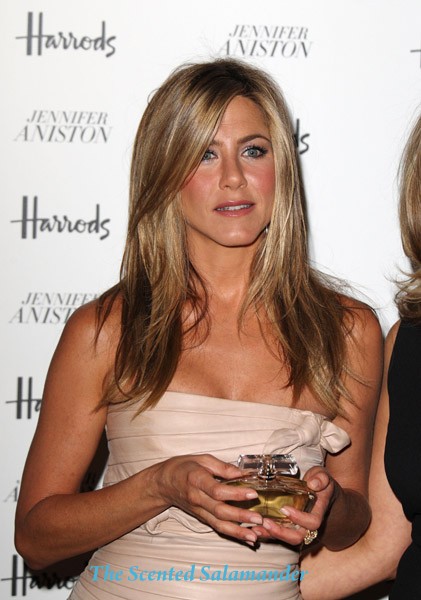 ©Mike Marsland
We reported
earlier on today
that a new fragrance name had been proposed by Harrods for the new Jennifer Aniston perfume on the occasion of its worldwide premiere in London. Now entitled
The Debut Fragrance
on their merchant website, we wondered if we would find it printed on the outer box for the bottle of scent or just on a removable sticker given the rather dramatic upheavals which took place around the naming of the fragrance? Dramatic because Aniston herself made it seem like one of the earlier names for the eau de parfum, Lolavie, was so pregnant with meaning it was virtually impossible to explain what it meant exactly.
Well, we were able to check the concrete object itself, namely the outer packaging, after receiving the following first two pictures of the event at Harrods. Pauline contributed the photos from London...
Since official press photos still did not reveal what was the external packaging (remember the bottle is now blank), I asked Pauline for a quick verification.
So, fresh off the wires, we present to you the object. It bears the mention "Jennifer Aniston" on the "front" of the white box which has a wave pattern where it opens in reference to the oceanic theme of the fragrance. "Aniston" is written in bigger font, seemingly referring t
o the very first proposition favored by the actress that the perfume be called "Aniston
." Then on the "back" of the box you can see that the Falic Fashion Group added a removable sleeve with the words "Introducing The Debut Fragrance by Jennifer ANISTON."
We had hypothesized there might be a removable sticker and it was done in that spirit. This indicates to us that this somewhat disorienting campaign is not premeditated. The bottle is completely sheer with no words on it and no "Lolavie" in sight.
Update: Here is
Jennifer Aniston's explanation for the last minute change of name
caught on tape at Harrods.