Bliss Eau de Toilette (2010): Atmospheric Scent {New Fragrance}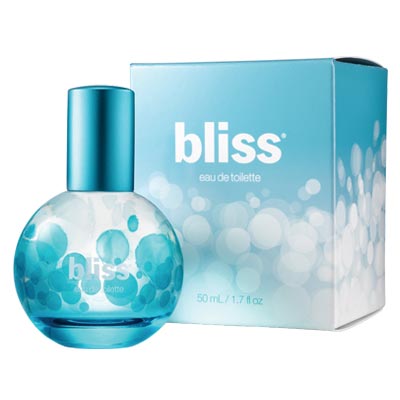 Spa and beauty brand
Bliss
is launching their first fine fragrance just called
Bliss Eau de Toilette
. If they went to knock on the door of the same perfumer who did their Lemon + Sage scent incorporated into their body products, then we'll say it sounds promising.
"
This "in-spa-rational" fragrance captures the essence of Bliss spas: the best possible feeling in the world. It's a mood-boosting fragrance with a vibe that's fresh, hip, and modern. This scent is light enough to spritz every day for a signature fragrance--but exceptional enough to wear on special occasions. A fabulous French perfumer and longtime Bliss client formulated this beautiful blend with notes of vibrant citrus and dewy greens
."...
Top notes are bergamot, dewy greens, cucumber. Heart notes are lily, ylang ylang. Base note is violet. The composition is said to showcase "bright florals."
On the Bliss website, the brand explains more clearly that their goal was to capture the moral and olfactory atmosphere of their spas, a fact which is confirmed by an user who says that the fragrance smells just like the spa,
"Bliss Spa began with a simple mission: to deliver the best possible feeling in the world. This signature 'scent'-iment--which literally permeates our spas--inspired our eponymous eau de toilette."
Prices: $18 (rollerball) and $54 for 1.7 fl oz.
Shopping addresses: sephora.com, blissworld.com