Hermès Launch New Hermessence: Iris Ukiyoé (2010) {New Fragrance}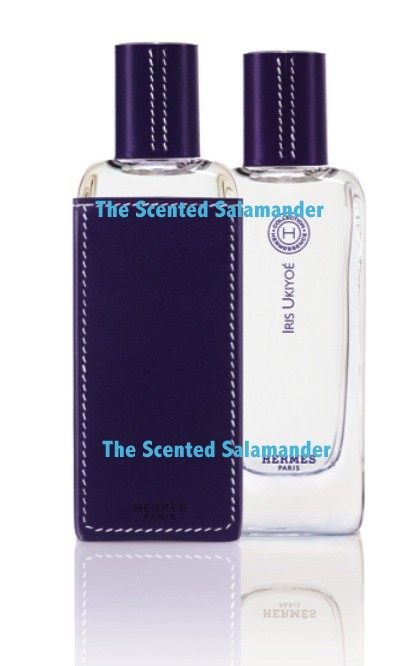 The house of
Hermès
will launch their latest and 9th addition to the
Hermessence
collection of boutique fragrances called
Iris Ukiyoé
from the end of November 2010. Composed by in-house perfumer
Jean-Claude Ellena
, the perfume is inspired by the genre of Japanese wood-block painting known as Ukiyo-e and meaning "images of the floating world." The perfume seems to refer more particularly within this tradition to the sub-genre of the iris garden (Hana Syoubu) although the press release is not explicit about this.
We are told, among other things, that Ellena is a collector of Ukiyo-e prints and that his perception of iris flowers cannot but be filtered by the visions of masters such as
Hokusai
(see below) and
Hiroshige
...
The composition is said to center on the iris flower rather than on its roots. Iris Ukiyoé was reportedly created like a Japanese bouquet full of nuances and paradoxes.
The perfumer drew a synthesis of several scents of iris flowers which he cultivates in his garden, looking for their common point.
The result is a composition where the main facets are rose, orange blossom, dewy petals and mandarin.
Stay tuned for a review of the fragrance. But dear readers, let me give you my initial take on it however as I know that many are awaiting for more news about the fragrance.
My first impressions upon smelling just the top of the bottle
au débouché
, without testing it either on paper or skin, is that it is a pure and fresh composition with an incredible lightness of being which is very much in line with Ellena's consistent adherence to his own style. It is both light and sensual, another of his trademark characteristics. The scent offers an enveloping presence like an ethereal and improbable transparent cashmere stole. And I think that the orange blossom note I kept smelling from my desk came from the closed flacon.
Well, let's see how it all develops further,
n'est-ce-pas
?