Parfums de Nicolaï Kiss Me Tender (2010) {New Fragrance}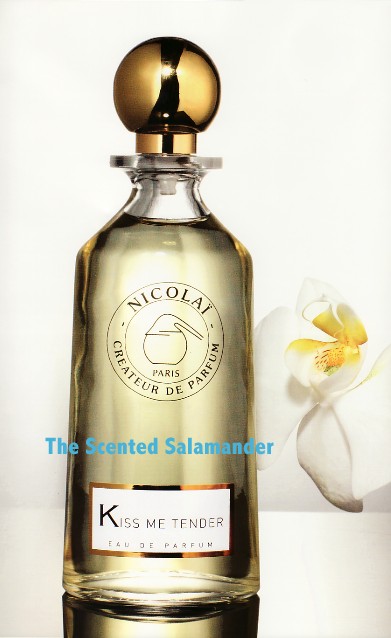 Parfums de Nicolaï
just launched their latest feminine fragrance creation in Paris. Centering on a quintessentially Belle Epoque flower, the powdery Heliotrope also nicknamed "cherry-pie" for its pastry-like scent, it is called
Kiss Me Tender
.
The floriental composition is signed by perfumer
Patricia de Nicolaï
,
"
Patricia de Nicolaï aims for discretion, allure and elegance, the fruits of the experience she has acquired in the 20 years since her brand was created. But still waters run deep...behind Kiss Me Tender, a mischievous perfume is hiding. When you get close, it bewitches you with an irresistibly fragrant trail. It brings women the magic of scented flowers, which give off their perfume to attract pollinating insects
."....
Patricia de Nicolaï explained that to compose the perfume she had let herself be guided by the many natural facets of heliotrope.
While many people may be used to thinking that heliotrope perfume is not to be naturally reproduced, the scent of this flower can actually be extracted in the form of an absolute oil, although it is seldom done so in the industry thanks to the easy availability of its convenient synthetic equivalent, Heliotropin, which nevertheless needs to be fleshed out for greater verism.
Here the perfumer reportedly showcased her recreation of the floral scent with a wealth of natural essences such as ylang-ylang, jasmine, orange blossom, bitter almond and vanilla beans. The fragrance further features warm spices like clove and cinnamon mingling with woody and musky notes.
"
The deeply sensual vibrations in its trail create an overwhelming desire to kiss that nobody can resist...let yourself be tempted!
"
The Eau de Parfum is available in 30 ml and 100 ml spray bottles.