Parfums d'Orsay L'Intrigante (2010) {New Fragrance}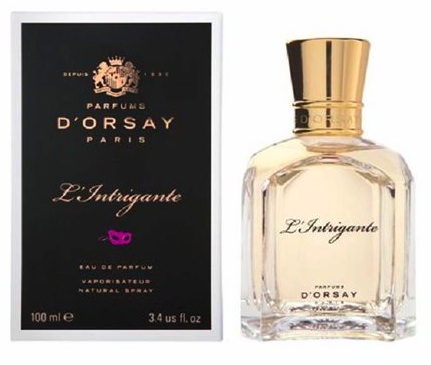 Parfums d'Orsay
, named after illustrious dandy Comte d'Orsay (1801-1852) and the repository of his perfume formulas, have launched a new feminine fragrance called
L'Intrigante
(The Schemer) in their
Les Intenses
collection where it joins Le Dandy, La Dandy and Le Nomade. It is co-signed by
Marie Huet,
the owner of the fragrance label, and by in-house perfumer
Marie-Anne de Puy Raimond
.
"
A spellbinding eau de parfum made in the image of the schemer who subjugates thanks to her splendor and her ambitious seductive wiles
"...
The fragrance features top notes of musk sparkle, juniper berries, myrrh, black pepper. The heart is floral with notes of camelia, osmanthus, red rose, poet's carnation, and orange blossom. The base notes linger on with sandalwood, vanilla,
patchouli
, suede leather, and
white musks
.
The fragrance is available in 50 ml and 100 ml spray bottles. The latter is priced at 83€.
You can read more about the history of the house in this 2007 review of
Tilleul by Parfums d'Orsay
, a linden blossom fragrance which was reportedly reformulated by perfumer Olivia Giacobetti in 2008 basing herself on a 100 years old formula before being relaunched in 2008, according to Osmoz.
Also via extrait.it and dorsay-paris.com