L'Herbier Parfumé: Histoires Humaines des Plantes à Parfum by Freddy Ghozland and Xavier Fernandez {Fragrant Reading - New Book}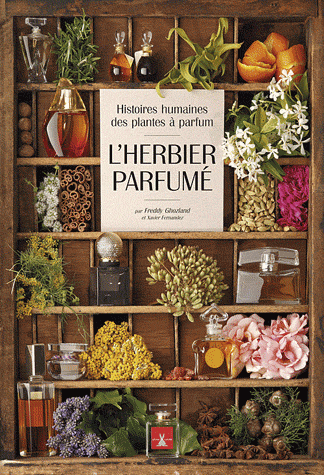 First Impressions
Among the crop of new perfume books this fall, L'Herbier Parfumé: histoires humaines des plantes à parfums by Freddy Ghozland and Xavier Fernandez with a preface by Elizabeth de Feydeau, will be one of your best bets for a pleasurable, informative reading and Holidays gift this season.
The subtitle "the human stories of perfume plants" is a reference more to the creators, i.e., perfumers who each speak about an ingredient to be found in the palette of the perfumers than to the history of human societies unfolding around key olfactory materials although Elizabeth de Feydeau's very substantive and mis-named "preface" goes more in a historical and social direction....
I say "mis-named" because although I have not come around to reading the whole book yet, it is obvious that this so-called "preface"constitutes more of a long introductory chapter which is also very well illustrated like the rest of the book.
Sylvaine Delacourte, the artistic director at Guerlain, intervenes also on two pages to comment on spontaneous perfume linguo, expressions and words she often hears in her job uttered by clients and which she needs to translate more objectively.
L'Herbier Parfumé (The Perfumed Herbarium) comes in a coffee-table format. Each chapter is defined by one particular ingredient and told by a nose from the industry. For instance, Olivier Polge talks about styrax /leather, Christophe Raynaud about vanilla, François Robert about narcissus, Jeannine Mongin about galbanum, Françoise Caron about bigarade, Caroline Mallejac about benzoin etc.
One will note the efforts the authors have made to include still less visible perfumers, the functional perfumers, who create shower gels, scents for creams either as a formative stage in their careers or as a professional specialty - we learn that Dominique Ropion's first job assignments were to design WC tablets for which he took fun in replicating famous masterpieces of perfumery he had copied as a student!
A number of the usual suspects among perfumers are there, but it is also very obvious that Ghozland and Fernandez wanted to renew the pool of expertise and ask for the testimonials of perfumers who are less media-savvy (those sometimes whose perfumes are more famous than they are.)
To be continued...
Price: 33,25€, 220 p, Editions Plume de Carotte