Avon Night Magic Evening Musk (1980s): Listening to the Perfume Radio {Fragrance Review}
The new packaging and an older one for Night Magic Evening Musk by Avon (upper right-hand corner)
Night Magic Evening Musk is said to be "the American version of Night Musk" according to a British Avon site for the direct-sales giant. It was apparently discontinued at one point then reintroduced. An UK-based cyber meeting place called The Friends of Avon Forum allows us to trace back the estimated launch date for the scent as being sometime in the 1980s-90s....
A customer on the US Avon site helpfully confirms the 80s date explaining that she has been using it for over a quarter of a century and another mentions the fact that she purchased her first bottle of NMEM in 1988. The brand succintly describes what we can take to be a household name for many as " A seduction of sultry incense and evening amber" leaving the rest to be filled by Avon representatives visiting clients and home-testing. Like for so many comments related to fragrance on the Avon website, it is striking to see the number of faithful users of the perfume. If you thought that lifers were out where perfume is concerned just by looking at the massive fragrance production today which seems to de facto rest on the ideological premice that fragrance philandering is good, you are proved wrong.
If I did not think of it just by browsing the flacon on the Avon e-commerce site, the color and overall appearance of the perfume bottle for NMEM makes me think in a somewhat subliminal way of Evening in Paris by Bourjois with its signature blue-cobalt flacon.
Musk fragrances are a dime a dozen, but there was such fervor surrounding the comments about this scent, that I felt something would irremediably escape me if I did not try it. I am also always ready to uncover a new musk perfume as you can well expect that they will stand - of all the fragrances you could want to test - as a promise of mingling particularly intimately with your body chemistry.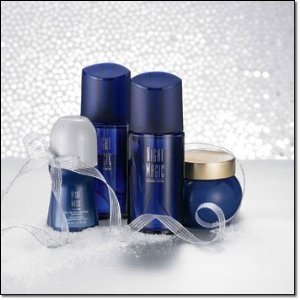 Night Magic Evening Musk Cologne opens on a blast of fresh, even cool, powdery musk notes. The top notes seem to have been designed for white musk molecule addicts (perfumers always design a cocktail of musks to overcome the issue of partial musk anosmia in the general population) with a facet of nostalgic Johnson Baby Powder to rein in the target group further. As the perfume continues on its drying-down course, it starts smelling like a more subtle, woodier proposition, like a more universal scent of soft, honest sensuality. Notes listed are incense, sandalwood, cedarwod and vetiver. There is to my nose also a hint of rosy rosewood, some coumarin, blended-in and discreet, bread-y,iris-y Ionones, amber, vanilla and synthetic moss.
Here is a musk fragrance which seems to say "I am clean, my morality is irreprocheable, my bathroom is impeccable and I in fact am also a church-goer." What makes Night Magic Evening Musk feel less like a simple musk product targeting the predictable taste of a focus group and more like an evocative perfume and a slice of life is its capacity to convey the sense that it abides by a set of moral values, and thanks to its mimicking in the process the intimate scent of skin exuding not dirty thoughts but fulsome honest ones.
NMEM smells like the scent of skin of someone virtuous, enterprising, busy, level-headed, opening clear eyes on the future while getting ready for the day in his or her bathroom. Despite its name, the scent feels like a day musk to me or a very chaste night one. Someone like Alice B. Toklas has studied the scent of fear, others have recorded the smell of a beautiful woman or a virgin, still others those of successful football teams. They could therefore attempt to bottle the scent of an honest person. Avon has a fragrance called Sweet Honesty, which I have, somewhere, and one can see how this would tend to show that the company know who their customers are and what kind of worldview they support.
Avon to me is a great sociologically oriented house of perfume (see Slumming in Avonland). In their fragrances you can find all sorts of vistas on social classes and roles. I was once struck by how one of their children's perfumes, Cynthia Rowley Petal, smelled like veritable children's sweat. Their accords can be uncannily realistic and psychologically and sociologically pertinent. Night Magic Evening Musk while recalling the sweetness of Coty's Wild Musk Oil at one point, is much more of a sociological leaflet in disguise. The longer drydown recalls a pinkier version of the sweetness of Trésor by Lancôme, but in a more candied and florescent fashion, more like Pez.
This is why I find mass-market perfumery fascinating and indispensable to gauge critically. A number of them also are surprisingly good - there are even masterpieces - and offer at the minimum undeniable perfumery qualities of balance and harmony even if they don't seek to make a (bold) original statement.
Fragrances are never innocent (see Bath & Body Works Warm Vanilla Sugar.) They contain messages re-expressed in the form of the language of perfumery. Instead of listening to the radio in the morning while preparing for your day ahead, be aware that you are also listening ithrough different means to the scent of a popular ditty and an aspirational ideological message called Night Magic Evening Musk sung by Avon.