Scented Quote of the Day, from Jean-Claude Ellena: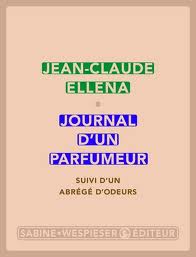 The latest French Elle magazine has an article about perfumer Jean-Claude Ellena on the occasion of the publication of his new book, Journal d'un parfumeur. I had the opportunity to read it last spring. My copy of it is filled with yellow post-its but it is still in need of a proper review.
It is an eminently quotable book, filled with short-form texts. The quote today is a new one from the magazine column, "Les livres de Elle"...
The perfumer indulges in a coup de gueule or rant on the state of the perfume industry and its low standards in terms of creativity.
"They are always the same recipes! I can break them down in an instant, there is so little innovation in them. Even their international names do not make you dream anymore; they are names without scent." (our translation.)
&&&&&
"Ce sont toujours les mêmes recettes! Je peux en faire la décomposition dans l'instant, tellement on n'y trouve aucune innovation. Mêmes leurs noms internationaux ne font plus rêver, des noms sans odeur."
Yes, this is the time when perfumes are becoming more and more like trusted kitchen recipes for comfort food, except there is at the same time a lot of discursive creativity hoopla surrounding new launches. Talk of art for art has never been more sonorous.
"International names", what does the perfumer mean by that? Simply the fact that marketers need to think about a global audience and therefore tend to choose names which will be understood by most. This semantic caution and lack of character contributes to the aseptic trend in perfumery, both metaphorically and olfactorily speaking as names for perfumes are one of the ingredients that make the personality of a perfume.