A Look at Louis Vuitton Perfumes Past {Historical Fragrances}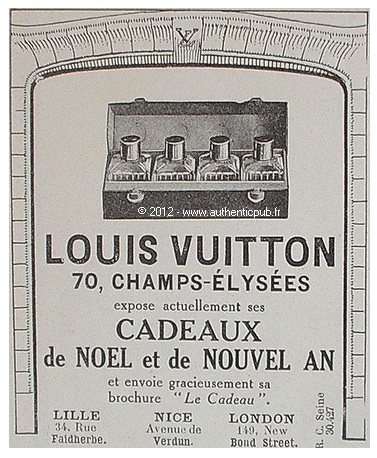 Louis Vuitton Perfumes in the Making Across the Decades
As Louis Vuitton have announced plans for joining the fragrance business, anew, we thought it would be useful to offer a brief retrospective by taking a look at the perfumes which were launched under the Vuitton label in the past. Established in the middle of the 19th century in 1854, the house of Louis Vuitton apparently did not contemplate fragrance development before they reached the 1920s-1930s...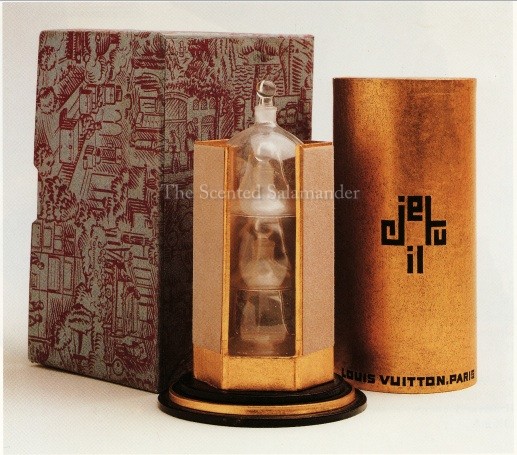 An early advertisement from 1923 shows a Vuitton travel case containing four flacons, which look like they are empty, ready to be filled with their owner's favorite fragrances, or lotions, decanted into them. As a luxury malletier, it was a must for the house to offer that elegant item for the well-to-do traveller, the nécessaire de toilette.
If Vuitton started out by thinking about the packaging side of the fragrance and cosmetics industry, as it would have been most natural to them, it is only from 1925 that commercial scents bearing their signature and baptized with evocative names were introduced, according to the current available record.
The first ever perfume launched under the Louis Vuitton name was called Sur La Route (On the Road) issued in 1925. You can see the logical connection between the luggage maker's main focus and the perfume which ought to illustrate that symbolic set of references.
In 1927, there was Heures d'Absence (Hours of Absence) as well as a trio of three distinct fragrances: Je, Tu, Il (I, You, He). Perfume bottle historian Christie Mayer Lefkowith offers a picture of the set in her book The Art of Perfume. Very consistently, « Je, Tu, Il », show that they were conceived like a clever travel chest. In the spirit of luggage making, the flacons were made in travelling sizes and designed to be easily stackable. The original flacon design was that they could stack from inside and from beneath their glass bases which had a stem-like, exaggerated piqûre inside of them.
Apparently, Louis Vuitton had a tendency to view perfumes as limited-editions, not so much as pillars for the brand. This is an approach that was familiar in Haute Couture circles where perfumes were created in limited quantities and offered to privileged customers. François Coty around the same time famously became a perfume industry pioneer because he was against that rarefied view and had on the contrary an intuition that luxury could be brought to the greater number, for everyman to enjoy.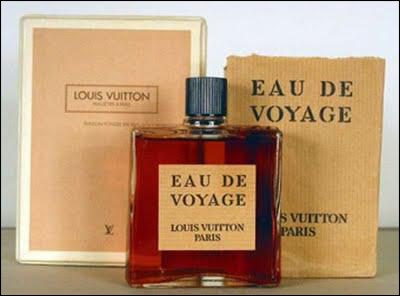 Other Vuitton fragrances created in the Roaring Twenties and Art Deco periods are: Réminiscences and Eau de Voyage ; the latter was re-edited for a limited time in 1980. The brand did have a spell of toying with the idea of going back to perfume creation in the 1980s. In 1985, a trademark registration was filed for Heures d'Absence by Louis Vuitton, but then was cancelled in 1993.
For some reason, perfume was never a priority for the brand. One hypothesis I propose to consider is that Vuitton were never that much into affordable, industrial, yet brand-image-enhancing luxury, as fragrance is seen from a marketing point of view within the luxury sector, but into real, artisan, hand-made luxury.
All of the Louis Vuitton perfumes were branding efforts, putting the accent on the themes of travels, longing, nostalgia, to tie in with the universe of the luggage maker. None of them are considered a forgotten masterpiece and none have survived today, nor left an indelible impression, so the stakes are still high and fresh for the luxury giant.
It looks like this time Louis Vuitton will go for economy and simplicity as All Beauty Rumours blog reports that the brand trademarked "LV" for perfumery at the end of 2011. Nothing is probably more evocative today, not so much of travels, but of hip luxury as those simple, eloquent and very costly initials.
Other sources: Le Monde; Cleopatra's Boudoir ;All Beauty Rumours ;