Madonna Truth or Dare (2012): Less Fracas, More Din {Perfume Review & Musings} {Preview - New Fragrance}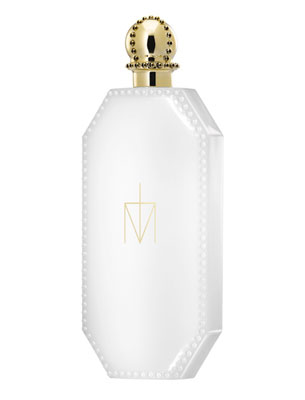 Truth and Dare
Truth or Dare is the long-awaited perfume contribution to the world by Madonna. She acknowledged the fact that since she was a little girl she had wanted to be queen of the world, or something like that. Coty, Inc are on the same wavelength as they see her signature scent as a "global" one, meant to please across market cultures. "True" it is because "We can be tricked by what we see but not by what we smell", which is of course not true. Aromas run the gamut. They play scales and reveal nuances which make you look at the world in an universalistic, interconnected and poetic manner, a place in which all ends meet and where potentially every scent borrows the personalities of other scents. Smell-world is a very fluid, interrelated world at the edges of a precisely named aroma: rose or daisy. "Truth" to her also personally means "Duality. Sin is my twin. Contradictions push and pull."...
What about the "Dare" part? Rather than aim to be iconoclastic like Lady Gaga who will also be on shelves soon with her own fragrance - both by Coty, Inc - the more ancient and original pop diva decided to take the route of personal expressivity, honest-to-God boldness, what she calls "modernized classicism" and nostalgia. As for the latter remark, her tuberose-jasmine scent is the pendant to her mother's gardenia and tuberose perfume which she says she carries everywhere with her; it is her oldest memory she has of her mother.
Perfume Stephen Nilsen of Givaudan who created the scent pegged it as being atemporal: "The fragrance for me is timeless! It is the ultimate return to timeless fragrances". The nose described the creative process as being collaborative and hands-on. He explained that,
"where we really had the breakthrough was deconstructing the fragrance down into smaller components. From there she was able to identify the intoxicating narcotic aspects of the floralcy and she was able to pick out this addictive ambery, woody sensuality. Each she wanted to push to their limits. This was really the process that moved us forward to create the scent as it is today."
Like Madonna, Truth or Dare knows how to bellow - olfactorily speaking - and take center stage. Like Madonna, it also reveals a certain dose of immaturity, it is on the shallow side. Indeed, just like her nasal, youthful voice in her new album MDNA remains surprisingly unchanged, evoking that of a teenager, there is something in her perfume which seems to refer to an unchanged part of her, something that will never evolve. She does not budge, it seems, at the core.
How it Smells
From the cap one catches a whiff of solar, suntan-lotion flowers. There is a nice, big, hydropic tuberose tinged with neroli in the opening top notes - sprinkled with sugar - soon sustained by the indolic, animalic aspects of jasmine while subliminally evoking the image of the juxtaposed layers of a cream-filled Mille-Feuilles pastry. Musk is also present from the get-go - quite uriney - although the pissy accents are folded into layers of cream, woods, white florals, and sugary treats.
That Musk
The musk in Truth or Dare, it occurs to you, does not attempt to come across as refined. It reminds me in fact of such drugstore excesses as found in Alyssa Ashley Musk. That musk is brutal and in a way very Middle-America, through an association I have of it with my first visit to Walmart where I can still remember pusing my lips at the reek in the car in the parking lot after having sprayed the musk bomb on. Desperate musk. A musk desperate to make an impact and send heavy sexual signals to a prospective mating date. It made me think then of violent, cheap-musk-and-sex, and it still carries that connotation for me today. Here it is again in Truth or Dare, dirty, cheapo musk.
The jasmine note, which is prominent, is less animalic than the musk but helps make it surf on the edge of raw and in-your-face. The vanilic pastry accents soften down the mix.
Gritty
Truth or Dare remarkably evokes for me the olfactory atmosphere of a working-class environment suffused with harshness - which is admittedly part of Madonna's biography - as well as the personality of a perfume fit for sex workers. This is what the French or Harriet Hubbard Ayer in her own time and language call "un parfum de cocotte". "Cocotter" means smelling overly strong and unrefined. Well, Truth or Dare is like that, a postcard sent to the past, to Mean-Street Madonna, which makes you think through her perfume that that experience constitutes a foundational part of herself.
I'm not going to go into her reversal of Catholic symbolism, and what not. Smelling the perfume does not evoke the ante-Christ, not even a church atmosphere. It's simpler than that.
Gardenia from the Past
The singer said that the fragrance is partly inspired by the gardenia perfume worn by her mother. So, I pulled out Island Gardenia by Jovan, also by Coty, to see if there might be a link. It is quite different. Island Gardenia is greener and aldehydic-soapy. There is no excess here. Au contraire, it is a perfume which clearly aims at feeling lady-like, restrained, with a sense of sexiness which is traditionally feminine, on the waity side of the courting game. And it smells incredibly good, I have to say. I will review it. But we know that Madonna despises such stereotypes, or rather that she has fallen into the opposite masculine stereotype of hand-picking youngins, young stallions, for her own pleasure according to converging reports. Baptiste Giabiconi, currently labeled as the highest paid male model in the fashion sphere, a protégé of Karl Lagerfeld, recently confessed in a French interview that she downright scared him off when she tried to reel him in. Apparently, she likes to pounce. The perfume shows that side of hers.
Multiple Overdoses
The composition is interesting, in its own way. It is actually quite a strange combination of amped up gourmand and amped up musk, as if the pastry cream had been pefumed with an infusion of grains of musk. I have archaic grains of musk and they have a very high-pitched note of feral urine. There is something raw and primeval about the composition of Truth and Dare. It's got oomph on every floors of the building it occupies. It feels like the composition was overdosed, not with just one ingredient as is usual, but with four main ones constituting blocks. No half-measures here. There would be an overdose of jasmine, musk, vanilla and caramel.
Self
The duality I sense in Truth or Dare is that it is both simplistic and complex because, I think that it requires a long psychological evolution to reach that point of combined simplicity and boldness. It is a whittling-down to essentials. This is a perfume with a very strong sense of self. It is both glaringly obvious, yet mysterious. You ask yourself how did this person end up being so determined about her choices?
A Lesser Fracas
The dry-down is caramely but also spicy. It smells of mace, and less of star aniseed like in Fracas - quite pungent and bringing a masculine nuance to the mix, which goes well with Madonna's masculine side. This is not a soft toffee-like caramel accord. It's a caramel accord made with the solar and darkly burnished accents of everlasting flower, a hint of rose, and something that smells, again, like mace. It's not at all blissfully "regressive" as they say in industry speak regarding fine perfumes inspired by flavors. It's caramel with character.
Not being personally a fan of Madonna for whom the last time I felt any sense of artistic gratefulness was for her role in Desperately Seeking Susan (1985), I can't speak to the reactions which will come from her fan base. To me, as an interpreter of perfume, I feel bored by it, almost to tears. It is too much all of one piece, lacking subtlety. It is perhaps too much about her. At most, it holds up my interest with its ghetto side and its exercise on vulgarity made more palatable. Let me also laugh at the suggestion that Stephen Nisen selected a "sensual musk aura" for Madonna. He may have told her that, but it really is the kind of musk you expect to smell on someone wielding a club.
The bottle also looks better on photo than in person. It is not opaline like for Anais-Anais by Cacharel but glass coated with white paint. The cap is not the right shade of gold. It looks cheap and feels lightweight. If they made a more expensive version of the bottle, it would be nice.
So, if you like your jasmine raw and sweetened with dark caramel, and if you are a fan of Madonna, ready to embrace her every outputs, this is one for you. if you like power fragrances rather than moving perfumes this is also one to consider. It has punch. The timeless appeal of the perfume mentioned by the nose translates for me as being curiously static and stuck-in-time, and therefore stultifying. In a way she does not go beyond her taste for Fracas. One could have expected more creativity from her. I will not use the easy, worn-out, lazy argument that because she did not come up with a pink candied fruity-floral, kudos should be extended -- please.
The attempt at bottling grittiness and making vulgarity palatable - all those frank, impolite aromas - is better exemplified for me by Fracas by Rober Piguet, the tuberose perfume worn in private by Madonna which inspires this fragrance. Perfumery is the art of subtlety. Infinitesimal nuances make all the difference helping you navigate interesting and dangerous waters on the edge of literalism.
"Fracas" at one level means a stylish, dramatic form of noise. It is a noise that can announce something worthy of our attention. Strip style from noise and you have din. It has that connoisseur touch because it is bold, but apart from that, it lacks finesse.
Truth or Dare lacks intellectual distance towards the expression of overblown sensuality like Fracas is itself capable of conveying, therefore it lacks elegance.
Fragrance notes: rich gardenia, creamy tuberose, dewy neroli/ carnal jasmine, benzoin tears, white lily petals/ vanilla absolute, caramlized amber, sensual musk aura.
Check Q & A with Stephen Nilsen
I'm a Bad Girl