Roberto Cavalli Eau de Parfum (2012): Orange Blossom & Smoky Resins {Perfume Review & Musings}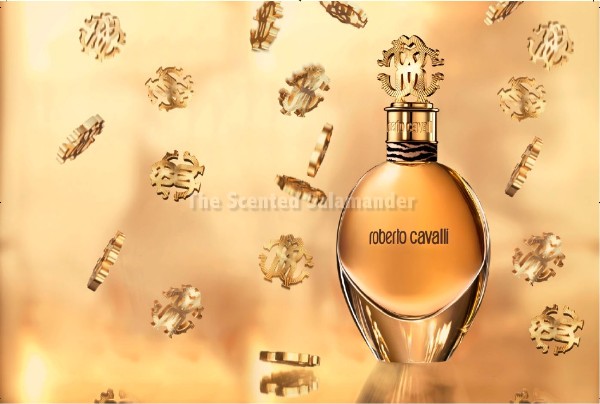 The Initial Impression
Roberto Cavalli EDP opens on a seemingly classic white floral bouquet without any particular lushness or exhuberance to it that might encourage you to consider that it is worth redesigning the classics from time to time. When you realize the baseline is going to be familiar, you look for twists.
On this sensation of a slightly stuffy white bouquet with not much vision to recommend it alight some more up-to-date juicy and fruity nuances, the latter lychee-like. Some of the raspier, rawer aspects of jasmine have been kept to bring an indispensable gritty edge to the blend. They are the hard edges of a lady-like fragrance along the lines of aldehydes and coquettish industry smells of nail polish and hair lacquer rumbling in the top notes, the familiar scents of a beauty war...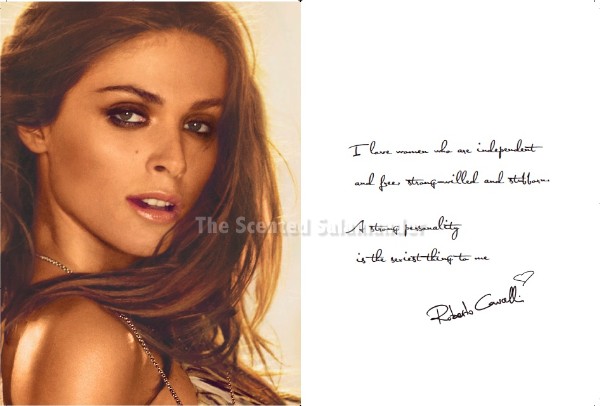 The Art of the Blend
Fortunately for fragrance lovers the perfume comes together at last a few minutes into the development. While the anaytics of it were not really compelling, the smooth synthesis of it finally comes through and convinces. Now we are smelling a subtler form, an orange blossom which altogether taken is a bit distorted, in a good way. It's warmed up by tonka bean. It keeps its pinch of urban Skaï allure. The juicy fruitiness plumps it up, makes the scent feel fleshy. A smoky, incensey nuance resting on the pyrogenic facet of pink peppercorn adds an element of moodiness and reflectivity to the picture.
The pink peppercorns or baies roses (schinus molle) play more than a supporting role in our perfume. Often lodged in the head notes - as they are here officially - they endure in this case and pretty much make the juice.
It allows the perfume to have more character thanks to the spicy and aromatic registers of the material weaving not only its burnt-steak nuances but also its green resinous ones. As the perfume blooms, it gains in sticky-sweet resinous quality further calling attention to the bridging quality of the resinous baies roses. The vanilla absolute, the tonka bean and benzoin create a warm ambery floral scent, which interestingly in the base notes - the ones closer to the skin - alludes to a high-pitched note of musk but without ever smelling squarely of it. Again, the pink peppercorn together with the benzoin and amber have that ability to reach a "musky" high-point without feeling animalic. Perfumer Louise Turner does not want animalic notes in her fragrances - I catch a hint of salty (synthetic) ambergris though - yet manages to recreate a comparable sensation of hot skin, natural live-and-wear musk, with even a hint of residual saliva usually resulting from skin-licking.
Importing Edge from the Kitchen

Roberto Cavalli EDP is what you call a designer fragrance i.e., meant first and foremost to be wearable in keeping with the general goal of sartorial perfumes generated by the systematic association of perfumery with the fashion industry since the days of Paul Poiret, but it has its charm, an element of private space and thinking, i.e., poetry.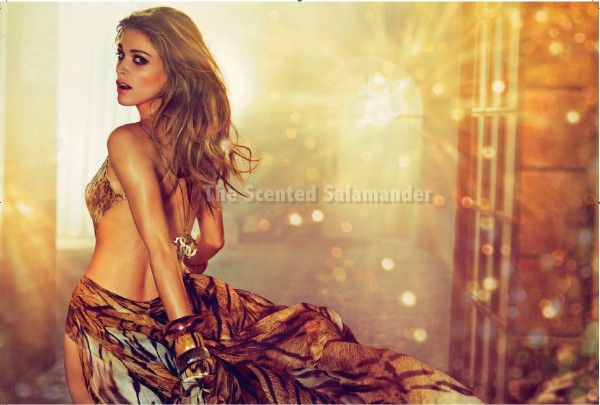 I find it more sensually enjoyable than the comparable Elie Saab orange blossom effort which leaves a memory of being more on the pedestrian side and more synthetic feeling. If Elie Saab EDP made me think of a wide boulevard, Roberto Cavalli makes me think of a more human-sized large street with some tree shades and moments of respite from the madding crowd.
The balance between commercialism and creation is tricky, none more than when you have to design for broader categories of appreciation. The greater naturalness of the ingredients here and the reliance on a familiar yet made to smell a bit off-beat pink peppercorn thoughtfully exploited to the max allow for more playing room both for the perfumer and wearer. I initially tweeted that Roberto Cavalli EDP felt both very natural, effusive - an English garden - and very constructed - a French garden - and I still think it's a fair assessment of its style.
It is a good idea to go look harder for subtle edge within the gustatory palette of perfumery notes as they hold the vitue of feeling both a bit quirky when bottled yet well-acquainted with, but still are capable of simply retaining a blissfully domestic and comforting character, like smelling your food in your plate or opening the kitchen cupboard. In other words, it's pretty safe for risk-averse perfumes. Only when it is overdosed and blatant as in Thierry Mugler Womanity - the scent of caviar and fig chutney - and Serge Lutens Arabie - the scent of souk baskets overflowing with spices and dates - that it can feel like food can leap out at you out of the comfort zone and rebel.
Olfactive Orientation
If you like the idea of the scent of slightly sticky sweet and savory hot skin ornamented with solar floral notes of orange blossom and amber, and with a hint of smoky incense, well it's one to try.
Where: at a partly bare-skin event
When: should be optimal in warm and humid weather
Listed fragrance notes: pink peppercorn, orange blossom absolute, vanilla absolute, tonka bean, benzoin.
Bottle: reflects the curves of a woman. Nice heftiness and baroque cap. Will stand out on your dresser.
More reading:The Renewed Popularity of Orange Blossom in 2011