The Renewed Popularity of Orange Blossom in 2011 {Trend Alert}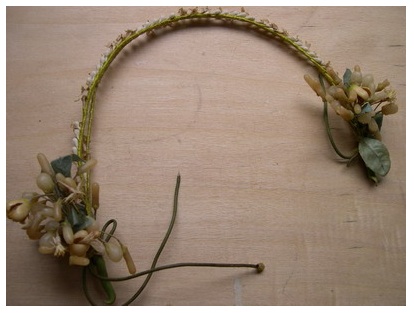 A French wedding crown with orange blossoms made of wax, ca. 1900
Orange blossom is, or was rather, the note of choice for brides to express their new commitment but also favored for its soothing qualities. While traditionally it was meant to symbolize virginity, purity and chastity, olfactorily speaking it is an ambivalent note which can be sultry and sexual or innocent and calm. it is potentially one of the best, natural ways to express your duality. While compositions may put the accent on one aspect over the other, all orange blossom perfumes are wonderfully optimistic and great heralders of spring and summer.
In the spring and summer of 2011 (and beyond), we saw a new interest lavished upon this classic note with a number of recent releases.
L'Artisan Parfumeur re-introduced the 2007 Harvest Edition of their Fleur d'Oranger...
Lancôme proposed an orange-blossom version of Ô, with Ô de Lancôme Fleur d'Oranger which will please people who are looking for a middle-of-the-road incarnation of the note: it is sensual but without veering into the territory of sexy, and clean but without excess.
Givenchy Organza Néroli 2010 added an organic harvest twist to Organza which was sourced in 2010 in the Nile delta region in Egypt. Its effect is aiming at offering a green eau de cologne personality.
Narciso Rodriguez inserted a distinct orange-blossom accord in Essence Eau de Musc borrowed from the Eau de Cologne genre while vaporizing a cloud of white musk powder around it.
By Kilian Sweet Redemption was both classical and lush.
Gorilla Perfume for Lush created the heady Orange Blossom centering on orange blossom absolute. It is also somewhat animalistic thanks to beeswax.
Tom Ford picked only one of his scents for a relaunch. It was Neroli Portofino now housed in a turquoise blue bottle to suggest its fresh and purifying aspects. The advertising campaign which was shot on a bathroom-like background further emphasized its role in ablution rituals.
Dior J'Adore Eau de Toilette (2011 version) counted on a new dose of orange blossom to give it new life and upped the quality of the material by sourcing it from a particularly good harvest in Tunisia.
Elie Saab Le Parfum wanted to recapture some of the fashion designer's childhood memories growing up in Lebanon while giving them a couture feel.
Parfum d'Empire Azemour Les Orangers was also inspired by childhood nostalgia of growing up in Morocco seen through the lens of grown-up elegance.
French household brand Bien-Être launched Eau de Cologne à la Fleur d'Oranger which brought out one of the traditional ingredients of an eau de cologne and gave it the leading role.
Roberto Cavalli Eau de Parfum (to be launched in 2012) relies on the femininity of the note, according to perfumer Louise Turner.