A Seasonal Bread for Winos: Le Pain au Beaujolais & Rosette Fetes Arrival of Beaujolais Nouveau {Fragrant Recipes & Taste Notes}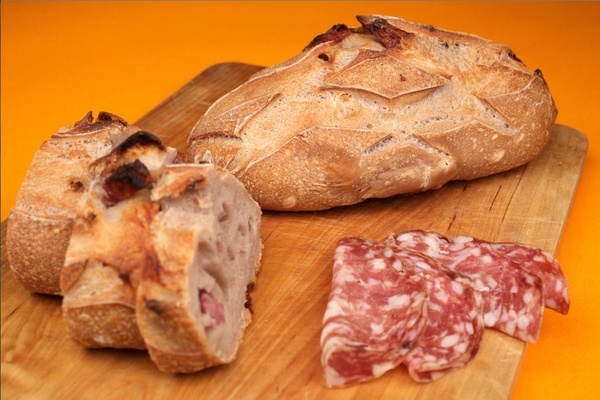 Courtesy picture ©David Grimbert
In November in France, you have just two weeks to taste a freshly made bread sold in a number of boulangeries, but not all of them. Coinciding with the yearly ritual of the arrival of Beaujolais Nouveau in cafés and at wine sellers on November 15th is the appearance of savory loaves of bread sometimes betraying a distinctive pinkish hue, Le Pain au Beaujolais et Rosette...
The recipe calls for the inclusion of red wine in the dough rather than just on the side. To enhance the taste, dry pork sausage of the Rosette de Lyon kind is added in lieu of the more commonly encountered lardons. The effect is lighter and more subtle than with a pain aux lardons but more alcoholic.
The result is delicious -- we tasted the one made by Maison Eric Kayser. The bread is particularly soft having benefited from the combined presence of bread and wine yeasts. The smell evokes at first the typical association of wine and cheese, with nutty, grapey and mushroom-y nuances: it smells like a simplified fall hunter's meal on the go in and of itself.
If you can't resist a nicely balanced salty and umami taste, this will prove well nigh impossible to put down. You could however probably get slightly drunk on this bread as you do feel the usual effects of drinking wine, which is not incorporated just as a flavoring agent. The hint of hard-alcohol is there, so think about it before you get behind a driving wheel.The dough in this case is made of natural yeast and wheat flour.
It's easy to miss this seasonal treat as it is not particularly well advertized. The recipe is said to have originated from the city of Lyon and is now becoming popularized through national and international bakery brands like Kayser.
Available from November 15th to 30th. A 280 g bread is priced at 3€.
You can read about more recipes using Beaujolais wine here, for instance.