Chanel 1932 (2013): The Pure & The Impure {Perfume Review & Musings}
Gabrielle Chanel at her villa La Pausa in 1938 with stars and comets on her bed headboard ©Roger Schall
The core olfactory signature of Chanel perfumes is unmistakably present: 1932 opens with a bouquet of aldehydes supported by the velvety finish of rooty and luxurious orris. What is new is a fruity note. What is advertized is a heart of "White Jasmine". What is further uncovered is a curiously brusque animalic finish of ambergris hovering between leather and dirty musk. What is preserved religiously is the abstraction that is the signature of a Chanel perfume...
1932 smells ladylike and wicked good from a distance and even on your scarf but up close the perfume reveals intricacies and complexities of a psychological nature in this perceptible juxtaposition of dry champagne notes with sweet stewed fruit, of a tailored style with more primitive undertones of oh-so-human stinky, sullied flesh. Chanel's sexuality has not been over broadcast over the years although it could have been. Now perhaps opens a chapter for further explorations of a more blood and flesh Chanel, the one hiding behind her style.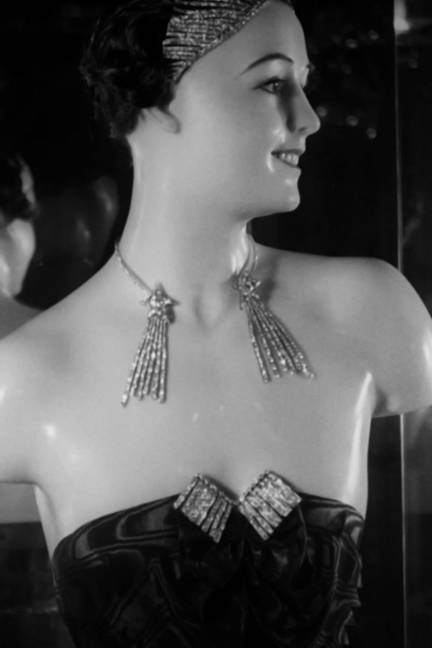 The pretext is an homage to the 1932 collection of diamond jewelry "Bijoux de diamants" that Gabrielle Chanel designed that year for a Parisian exhibition. Archival photos reveal that the designs were bursting with stars, religious Christic symbols and that from them escaped the sparkle of heirloom diamonds not bought but retrieved among her privileged clientèle in order to raise funds for two charities of her choice, the "Société de la Charité Maternelle de Paris" and "L'Assistance Privée à la Classe Moyenne".
Chanel is known for having on occasions publicly dissed the stereotype of wearing authentic jewelry because she thought it to be too bourgeois, straighforward and boring. Style should come first. Nature, however rare and beautiful, can be a drag if it stands as a sign of a lack of creativity and imagination. Therefore, costume jewelry allowed in her book for greater freedom. One ought to play with style and sautoirs, run one's fidgety fingers through exaggerated baubles, not, God forbid, dress up for pump and circumstances -- how very dull.
It is thus rather logical that a thoughtful perfume about the universe of Chanel jewelry should not to be too unilaterally classic but whimsical too. This is at least how we interpret the inclusion of a fantasy fruity note in the midst of more restrained, elegant perfume notes, a trick that was used in Jersey as well.
1932 is the 14th opus in the Les Exclusifs collection by Chanel which is dedicated to exploring more demanding and focused formulae, ones that will court the noses of connoisseurs rather than try to reflect the image of accessible elegance of the house like for Chanel No.5, No.19, Allure, Coco, Coco Mademoiselle, Chance, and most recently Coco Noir.
Evolution of the Perfume
The top opens on soft, fruity aldehydes followed by very rich irises. The iris is ambery but also as soft as felt material. The perfume at this point is immediately reminiscent of the sparkling quality of the adapted, more youthful No.5 that is No. 5 Eau Première. What however makes the composition stand out from it is the overdose of elegant, rooty iris, a note of luxury that could not be introduced in a more mainstream launch.
The next surprise for your nose is to have to recognize the fact that the fragrance is quite unexpectedly animalic. It is as if the iris had been pushed in the direction of leather steeped in iris, but also musk. A traditional ancien régime reference to scented gloves materializes. These leather gloves seem to belong to the forceful personality of an equestrian woman who likes to bitch slap bushes of narcissuses when she comes back home from one of her long and tiring rides in the countryside.
The composition develops fruity accents sometimes found naturally in jasmine when the latter smells a bit like strawberry-scented erasers. There are woody nuances; vetiver is explicitly mentioned.
The perfume reveals itself to be quite complex with rather strong musky leanings. Musk being one of the most fundamental building blocks of a perfume, and a kind of basic smell that we carry, it seems that Chanel 1932 could be interpreted as a Chanel version of an expensive musk scent. It would have fruity, floral and woody accents. It would be pungent but also refined thanks to iris. The labdanum contributes to this sense of a down-and-dirty Chanel perfume, taking a step back from ideas of soap and cleanliness once advocated by the founder of the house as her fundamental olfactory ideal.
It is a bit as if the perfumers had decided to reveal the real Chanel, the one that had a much more complex life as a near-courtesan once upon a time. It is as if we were able to smell the cocotte that slept in Gabrielle Chanel's past.
Indeed, the composition reveals a surprisingly "impolite", frisky and realistic side. Named after the year that saw the organizing of an exhibition of diamond jewelry during hard times, it is not overly surprising if we put it in a context where there is in it a hint of the unwashed masses as hygienists liked to call a segment of the population. Let us remember that resistance via more luxury was conducted also with Joy by Patou, "the most expensive in the world", which was created in 1930 as an anti-depressant for the Krach of Wall Street.
You can detect perfumer Christopher Sheldrake's personal touch as mid-course there is a return to something suggestive of sudsy soap bars, and more particularly of L'Eau by Serge Lutens. The latter reference however comes laced with the supplementary ingredient of luxury, iris butter.
A Perfume with a Dual Nature
Overall, you get an impression of dichotomy in the composition of the new scent. It is as if it were an olfactory reading of Gabrielle Chanel's personality, the pure and the impure woman. She comes from a past of perdition - or borderline perdition - craves as a result the scent of cleanliness to cover up her sins and maintains throughout her strength of character. We smell something here of "l'irrégulière" as author Edmonde Charles-Roux called Chanel in a biography of the couturière. It is somewhat ironic that the perfumers have brought more to the fore what Chanel was afraid of, the "bad smells" that she saw as betraying one's lack of virtue.
Perfumer Jacques Polge stated that from the creation of Coco in 1984 he used a model of thinking that was about dichotomy. In Coco, he wanted to capture Chanel's predilection for austere lines, but also at the opposite end of the spectrum, her love of ornate Baroque stylings, a tension which contradiction could be attempted to be solved in perfume form. Likewise, 1932 offers a dualist tension.
1932 is not loud, but stylistically speaking surprisingly pungent. It is this musky facet which is the most fascinating thing you can unveil thanks to your nose as you are not used to associating the name of Chanel with the aroma of a slightly brutalist musk. Is it the name of the perfume - a date and a year for the first time - which inspired the perfumers to think of musk ca. 1932? It can read as an effect aiming to be a throwback to a time when authentic musk was used in Chanel perfumes, making them more beastly-smelling then than now, a historical reconstitution which would enable us today to get an imaginary whiff of a Chanel perfume as it used to waft in the streets in the 1930s: aldehydes, iris, animalic musk and always, always, abstraction.