Dolce & Gabbana The One Desire (2013) {Perfume Review & Musings}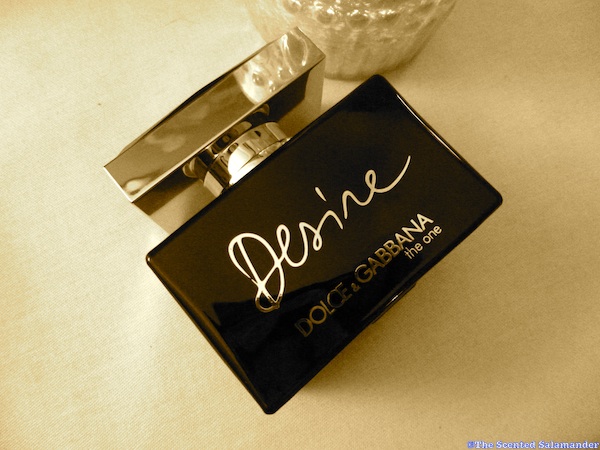 The flacon bears the handwritten signature of Stefano Gabbana
The One Desire is the latest feminine launch by Dolce & Gabbana, as they've also turned their attention now to fragrancing infants. The advertising shot by Terry Richardson continues to picture their muse, actress Scarlett Johansson (please ad see after the jump). The duo of Italian - should we decide to say Sicilian by now? - fashion designers sees the new scent as being a new incarnation of the original The One; Johansson remains at this point for them the one best suited to act the multifaceted personality of the The One woman. In her latest role, she had the following script to interpret: "Everything starts with desire. There wouldn't be seduction, sensuality or passion if it wasn't for desire," stressed Domenico Dolce and Stefano Gabbana...
With this composition, which was developed by Procter & Gamble Prestige together with Givaudan -- P & G reportedly never like to divulge names of perfumers -- the brand creates a bit of a hybrid OVNI, a designer fragrance with the hidden personality of a niche scent, i.e., a creative perfume. There is a sense of balance that is part of the designer fragrance world in principle, but there is also excess and borderline foulness, which are more part of the niche perfumery world in principle. Clearly, some people were interested in bridging a cultural gap and breaking a few marketing olfactory conventions wih this juice.
Fragrance Notes: Top notes: bergamot, mandarin, lychee, lily of the valley /Heart notes: Madonna lily, jasmine, plum nectar and tuberose /Base notes: cistus labdanum, musk, sandalwood and vanilla infused caramel.
The One Desire eau de parfum opens on a juicy and fruity note conjuring up a passion fruit or guava yet instead of banally spinning sugary treats and fruit juice along the way it soon develops more demanding and less than stereotypical nuances of fruity sensuality liberating the natural sulphurous accents of some of those as well as their natural muskiness.
Past that interesting stage and "prise de position" - this is how we want the perfume to distinguish itself - which continues to characterize the scent, a new floral nuance enters which smells to my nose like passion flower rather than passion fruit this time; once I spent some time one afternoon trying to describe and memorize the smell of these generous blooms as well as taking pictures of passion flowers, and the scent here reminds us of that afternoon in the countryside by a roadside.
Then, it becomes even more interesting: the fruity facet comes back to the fore but this time with nuances of decay allied with that dry, slightly mustardy, gaseous feel of a fruit exploding with life and teeming with olfactory nuances. The perfume even turns a bit nauseabond evoking something like a Thiol-like compound.
I am reminded of durian, the famed and controversial fruit from nose hell for some, from taste paradise for others, which long before Poison by Dior needed to be banned from some public places in South East Asia. There are some slight garlicky nuances found in durian to reinforce this sensation but they must be ascribed to tuberose whose absolute contains that nuance.
Exploring further that range, I am reminded now of the smell of skunk cabbage which is also garlicky; to my knowledge only one indie brand Smell Bent bottled that scent in perfumery; letting that nuance loose, instead of reining it in is not run-of-the-mill.
Analyzing the accord, I can discern that the lily note is at play here in pushing the perfume in the direction of foulness, together with tuberose. The salty, indolic facets of lily mingle with caramel and fruits to create some dangerous smells. The mythology of desire says we have to feel afraid of it, so some dangerosity would be appropriate.
The composition appears paradoxical, especially for a so-called "designer perfume" entitled The One Desire by Dolce & Gabbana. I did not expect such hints of putridity from the label. It is as if some of the witch-like aspects of the floral and fruity olfactory world had been isolated and gently cultivated in this scent.
It feels rather intriguing but at the same time you do know that Dolce & Gabbana are capable of excess when you look at their fashion. Their style can be overstated, theatrical, drag-queen-like and extreme at times. It is just a step-up to see this proclivity reflected in a largely distributed perfume. Tom Ford Black Orchid comes to mind as that kind of OVNI. There is here also an echo of Truth or Dare by Madonna, but like a more refined version of the caramel plus tuberose idea.
The end result is that The One Desire smells quite original. It is a fruity-floral (oriental), yes, but it shuns anything overly mainstream that we might smell usually associated with such a common denomination. Desire edp is about all the potential difficult facets of fruity-florals, and for this reason alone ought to be experienced by savvy perfumistas as a benchmark dark and paradoxical fruity-floral, even if it is tagged as a floriental. They will be delighted that it smells a little bad.
If you expected a wholly commercial juice, this is not exactly it; if I was slightly surprised by the luxurious aspect of the packaging which looks like a jewelry box and a niche packaging more than a designer scent box, I understand better the stylings when smelling the fragrance. The jus itself expresses an affinity with the more rarefied world of olfactory sensations, one where pretty smells are banned or sent to Purgatory.
The composition plays out an array of more demanding nuances, and it's wonderful. The perfume is subtly intoxicating and very subtly gourmand. But most of all, it is there where you expected it least, and this is, by definition, one of the initial ingredients of desire. In the end, this is a designer perfume with the personality of a niche fragrance. Only its ease and ability to fit in makes it a "normal" perfume.
Imagine encountering someone at a large social event who is standing out from the crowd thanks to his or her off-beat perfume seemingly signalling a hidden, private personality escaping from the formal niceties of a cocktail attire. If you can smell a little of decay, it means that you are not afraid of death and won't be thinking of putting makeup on the dead. You are in fact wearing a memento mori, a sign that you are an ephemeral creature, which justifies the fact that you are covering up in part your own body smell.
Again, we go back to Sicily and the implications of its culture of death. You are advised not to be fooled by the mainstream trappings of The One Desire; it is a real perfume just like there are people who are real who live closer to truth, even though they remain dressed in public for the occasion.
Shopping tip:
WWD reported that there had been new thinking about the price of the jus: "The One Desire will be priced at the high end of the Dolce & Gabbana fragrance portfolio, with a 30-ml. bottle selling for 65 euros ($79), 50 ml. for 90 euros ($93) and 75 ml. for 110 euros ($112). Feola [P&G Prestige VP] said the higher prices were "also a way to drive category growth."