Serge Lutens La Vierge de Fer (2013): A Practical Argument for a Little Black Dress of a Perfume - Or when a Famous Fashion House Overlaps with a Confidential Perfume House {Perfume Review & Musings}
The photographic model for the Madonne aux Lys by Mucha
Serge Lutens has done a lily fragrance before called Un Lys. His doing a second one therefore fulfills no library referencing purposes as in, "Come to think of it, we need a lily in our lineup". As usual, he offers a series of cryptic clues opening the doors to his imaginary world. Just like for any literary text whose symbolism is thick enough to form a smoke-screen, make of them what you will.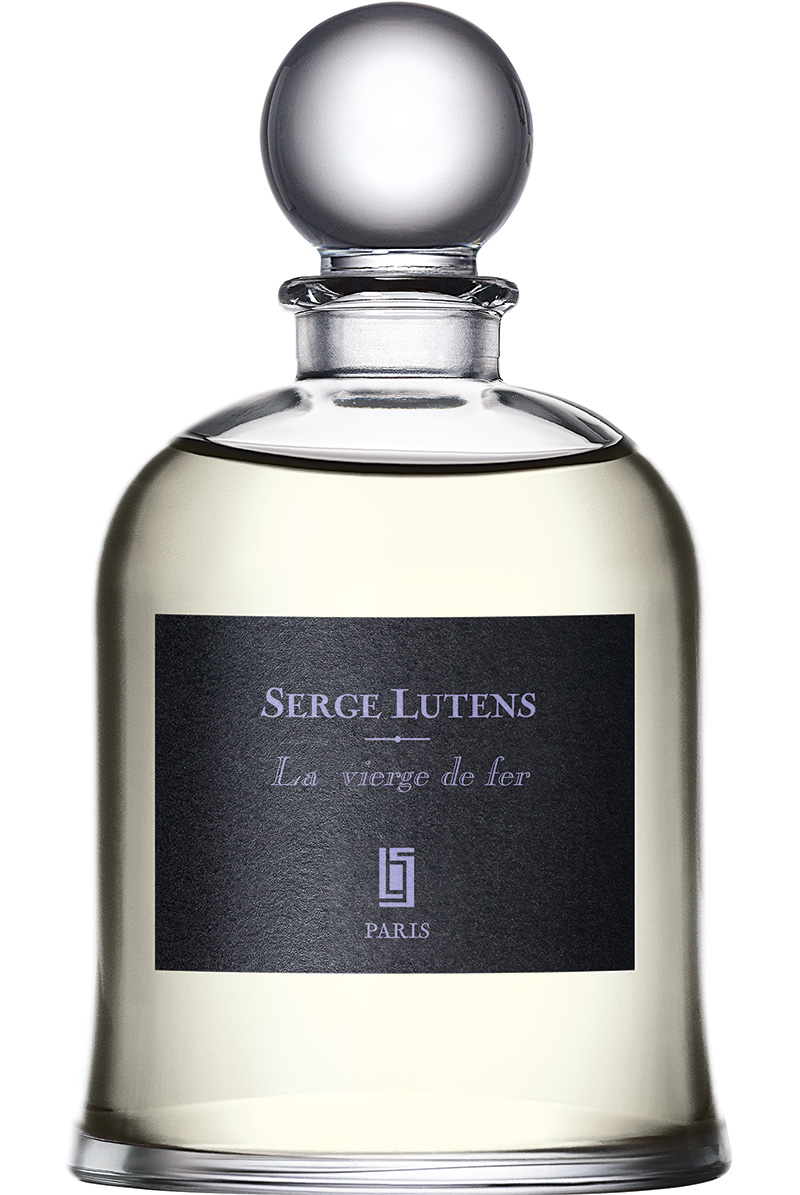 The 2013 edition
Called La Vierge de Fer, this new lily composition is meant to be provocative if not downright painful or hurtful like the mythical torture instrument whose iron spikes are turned inwardly inside a sarcophagus designed to pierce the flesh of the victim it sandwiches to death. An image for the metaphorical sufferings of the soul it is more likely to be in this case as Lutens mentions his mother, a difficult figure in his life and one he comes back to in his perfume evocations...
He likens his condition to that of "négritude" too alluding to Picasso's saying that black men have long understood that we are surrounded by enemies.
Mucha in front of his painting of the Madonna of the lilies
Lutens says that he went to pick the "lily found in-between the thorns," which would indicate that he attempted to isolate a symbol of Marial purity amidst the thorns of the suffering of Christ, her son.
The torture device itself seems to have been used more as a dramatic prop and propaganda tool than as an actual instrument. If that is the case, then its status as pure symbolism is reinforced and its odd name legitimately needs deciphering. This is what Lutens does here. He wonders about the meaning of the Iron Maiden. It is not turned into an instrument of olfactory shock, quite to the contrary.
It is in the composition itself that you find support for this interpretation as it is not a Walkyrie of a fragrance despite its harrowing name. Its alternate appelation, "The Virgin of Nuremberg" as it was known to Bram Stoker in his 1893 short story "The Squaw" is lugubrious to 20th-21st century ears and has led to it being used as a symbol of Nazism.
The Iron Maiden is a symbol of the memory of Lutens's mother with whom he has had an ambivalent relationship by his own admission the reason being that she abandoned him when she re-married.
We may take a biographical detour and speculate that it might have been survival instincts for her as it happens when a woman feels the new partner in her life does not welcome a child from a first marriage. What we know is that on her wedding day she wore a black dress, which was then the custom amongst women of modest financial means who planned on wearing the dress after the ceremony, according to ethnological sources.
Vionnet and Chanel later might have understood through this type of popular sartorial custom that black is indeed the little black dress that clothes the little people who struggle rather than lounge; this practical mindset could only spread further as society democratized and the leisure class shrank. La Vierge de Fer is closer to a little-black-dress of a scent than an iron coffin even though Serge Lutens might be tempted to populate this perfume with ideas about his own mortality as he has shown for example in De Profundis.
Madonna of the Lilies by Mucha (1905) - Lilies symbolize purity and Ivy leaves, remembrance.
The lily scent contained in La Vierge de Fer is lusher than in Un Lys, but it is not a lily bomb. It does not feel disquieting. It does not smother. it does not even pierce the nose. It is rounder, fuller, creamier than Un Lys but not that much more either. In other words, this is a safe lily. Its natural flamboyance has been suppressed thanks to the use of a fire extinguisher.
When you muse upon an instrument of torture and sadism from the comfort of your armchair, this is bound to happen. And it is for the best. All those torturous thoughts are best left for the Halloween season, with the result that you smell a lily perfume which is clean, albeit a bit fleshier than it could be if called "wispy". Still, its personality is discrepant when compared with the name. The only nuance of "bad" you can smell is a nuance of egg with a hint of sulphur. This lily perfume is not indolic, as it could claim to be. If there is anything worth noticing about this perfume is its particular softness and the subtlety of its rose-lily-carnation-incense signature.
It is time to return to Chanel at this point. We mentioned that little black dress concept applied to wedding dresses, and now, more clearly, perfume.
The perfumer who officiates for the house of Lutens is Christopher Sheldrake who also happens to be the nose - or rather one of the three main noses - at Chanel.
La Vierge de Fer by Serge Lutens has been branded with the Chanel olfactory logo. It smells of Eau Première, the newer, crisper alternative to the No.5, its more luminous and fresh incarnation. The signature of aldehydes is unmistakable. The similarities with Gardenia by Chanel are here too, as well as to the fruits in Jersey and No. 18. No metallic or egg-y nuances will mask this plain fact: La Vierge de Fer is willy-nilly a Trojan Horse for the olfactory signature of a contemporary Chanel fragrance.
Lutens has come to prominence in the world of perfumery for his sensibilty to Orientals, woods, spices, exoticism and for his careful building of an original theater of fragrances. The carnation in this lily perfume, as well as the slight nuance of hyacinth-gasoline and hyacinth - asparagus are not enough to preserve the spirit of a house that has thrived thanks to its anti-cultural stance. Becoming more standardized and more commercialized in this manner is disappointing. You could argue that this is the thread of inspiration that goes back to L'Eau, his new anti-cultural position defending the right to breathe pure air in a non-perfumed world.
Too bad only it ends up smelling like a rebottled Chanel. If you want to feel some of the Lutens style today you are bound to find it in his poetic prose more than in his perfumery accords.
Images Via