Lancaster Sol da Bahia Eau d'Eté (2014) {New Perfume} {Beauty Notes}
Familiar Concept in a New Bottle, Speaking with a Brazilian Accent
Lancaster Bath & Cosmetics are launching a new fine fragrance after Eau de Toilette Concentrée and Summer Splash called Sol da Bahia Eau d'Eté, an homage to muticulturalism, Brazil and summer sensual pleasures...
With the FIFA World Cup upcoming, Brazil is more than ever a source of momentous inspiration for this summer 2014.
The new scent is said to be inspired by the olfactory landscape of the country. In essence, it translates as the kind of summer eau which was especially well popularized by Estée Lauder / Tom Ford Azurée Soleil: coconut, citruses and musk mingle on the skin to create a beachy mood to complement in this case Lancaster sunscreen & shower products. The perfume is safe to use in the sun.
The packaging was designed by British and Brazilian pair of designers Suzanne Clements and Inacio Ribeiro.
Price: 45€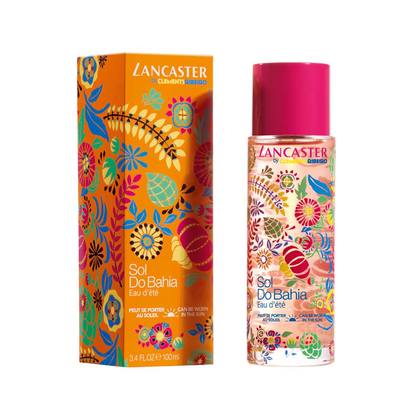 Added: after smelling it at the perfume counter, we can confirm that the fragrance emulates Estée Lauder Bronze Goddess. If you can't get enough of a coconut scent, it's particularly coconutty and well done on that front.
Via Medianet Lancaster; Gioia Magazine