Elizabeth Arden Go Full On Aqua for Summer 2014 with 5 New Fragrances
Arden are Launching a Shower of Perfumes
Elizabeth Arden have developed or reissued a series of no less than five new fragrances for summer 2014. Three are consecrated to twists on Green Tea with Green Tea Tropical (2007), Green Tea Summer (2005) and Green Tea Yuzu (2014) while the Sunflowers franchise is updated with Sunflowers Summer Bloom (2014) and Sunflowers Dream Petals (2012). Their common characteristic is to leave a large expressive room to the aquatic theme...
It's back to the Calone days of the 1990s, in full gear.
Green Tea Yuzu - the new one - was composed by perfumer Rodrigo Flores-Roux of Givaudan who said,
"There's an uplifting and refreshing beauty and elemental purity that the Yuzu fruit can bring to the senses, whether you experience it in tea, cuisine or even for therapeutic purposes. I was inspired by these unique properties, and wanted to pair them with notes that I felt reflected the lively and lighthearted personality of the fragrance wearer."
The fragrance includes top notes of yuzu zest, sheer bergamot, sparkling lemon, green tea vapors, lemon tree petigrain leading to a heart of yuzu pulp accord, wild thyme, spearmint, black currant buds, green tea leaves, Tunisian neroli. The base rests on musk, white birch and ambrette seed.
Green Tea Tropical is a reissue of a 2007 composition by Rodrigo Flores-Roux and Claude Dir.
"Green Tea Tropical intoxicates the senses and takes you into a world full of exotic fruits and juicy, green leaves of a tropical rainforest. The perfume is full of warmth like a vacation on an exotic tropical island and as pleasant as refreshing as a tropical rain."
It features top notes of lychee, Dominican passion fruit and exotic dragon fruit followed by a juicy heart of refreshing green tea and Chinese magnolia while lingering with exotic base notes of warm musk, sea moss and tropical blackberries.
Green Tea Summer was originally produced in 2005. It is "A fragrance inspired by sunny summer days and juicy summer fruits. Green Tea Summer is light and fragile as a summer's morning and making it the perfect companion for any summer day. The refreshingly feminine lightness offers floral and herb- wood notes."
Top notes are bergamot, fresh tangerine and tangy lemon followed by cyclamen, fragrant roses and feminine water lily while the base offers a tart facet with juicy moss , sensual musk and fine amber.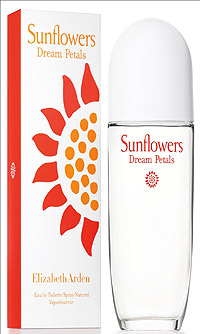 Sunflowers Dream Petals is a reissue from 2012.
"Sunflowers Dream Petals is a fruity floral fragrance that combines luminous flowers with ripe fruit. The eau de toilette exudes the warmth of the sun rays and wraps its wearer in a heavenly daydream."
It opens on full-bodied mandarin oranges, crisp green apple and refreshing water fruit with a heart showcasing delicate gardenia , sensual roses and red elderberries ending on a "dreamy" base with traces of cedar, sensual musk and amber.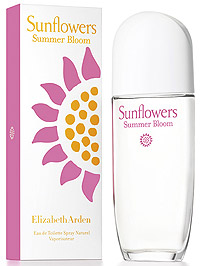 Sunflowers Summer Bloom is a new composition for 2014.
"Sunflowers Summer Bloom is a radiant floral scent composition with citrus - woody notes. The eau de toilette captures the energy and beauty of fresh, full flowers, sharpens the senses and revitalizes the mind. What remains is a feeling of contentment and happiness."
It opens on green ivy, charming water lily and fresh pear Anjou followed by "magnificent" hydrangea, soft Parma violet and feminine jasmine and rests on a base of Texan cedar, soft musk and vanilla pods.
Price is 29,50€ for 100 ml.