Thierry Mugler Angel Eau Sucrée Offers a Double Helping of Gourmand (2014) {New Perfume}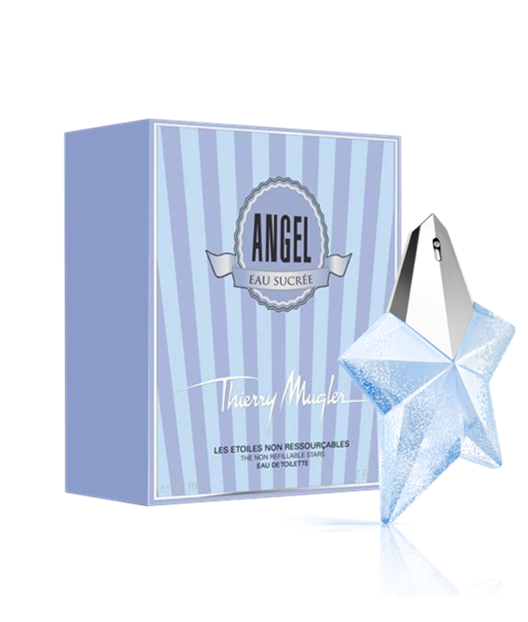 Angel is Thinking of Our Inner Babyhood
Known for its pioneering role in imposing a taste for gustatory notes in fine fragrances, Angel by Thierry Mugler has since 1992 revisited its star perfume many times. This time, there is a return to a basic building block of the Angel universe, i.e., sugar - and the primal taste of infants for it, with Angel Eau Sucrée...
Designer Thierry Mugler said,
"With Angel, I've always wanted to create a perfume close to tenderness, to childhood. I wanted to have such a sensual contact with this perfume, that you almost feel like eating the person you love."
The composition is signed by perfumer Dorothée Piot of Robertet. It is described as an olfactory sweet "born from a whirlwind of tart freshness and angelic sweets."
Contrast was a leading concept to create the perfume by opposing warmth and cold, tartness and sweetness, crunchiness and mellowness, freshness and carnality.
The eau de toilette is said to feature three main accords: there is a red fruit sorbet one followed by a caramelized meringue impression and finally, a voluptuous accord of vanilla and patchouli.
Available from April 29, 2014. A 50 ml bottle is priced at 65€.
Via press release