Perfume Counter Hopping Notes {Scented & Olfactory Thoughts}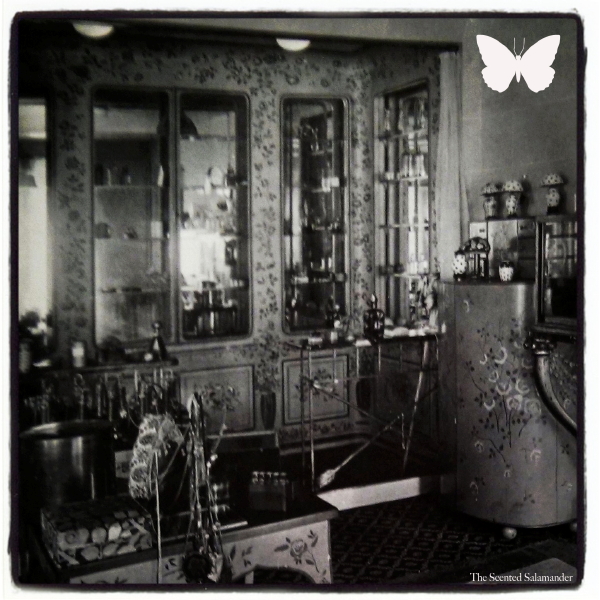 Poiret Perfumery / Parfumerie Poiret
The Way of Perfume-Counter Hopping
A perfume blogger is bound to follow the industry launch rhythms. Once in a while, it's good to go back to the basics by engaging in perfume counter hopping. In the era of self-service perfumeries, you can explore at leisure, and sometimes, be surprised. You can also hope to bypass such Pythian pronouncements such as, Her: "This is a perfume for a blonde, and you're a brunette. " You: "Mmm, really?"...
Days have become sunnier. I had a two-hour stretch of time before me. I decide to go check out a few perfume counters, starting in my report - but not in reality - with the Guerlain counter. Smelling inside a perfumery can be challenging because of the noisy olfactory environment. What you can hope to achieve however is coming away with a main impression about a perfume and the desire to discover more of it, or not.
Interesting. Héritage by Guerlain now smells more like...Salvador Dali pour Homme, a 1987 composition by current in-house perfumer for Guerlain, Thierry Wasser. It's the secret language perfumers use and a trademark practice of noses to insert their pet accords in perfumes. It's still a beautiful beast though, only with a sweeter secret accord.
Mitsouko by Guerlain however - both in edt and edp - still smells disappointing compared to the old version. There is that plastic note which makes it smell a bit fake and empty, like something is missing from it. Same thing for l'Heure Bleue by Guerlain although the edp holds its own on paper, suggesting the richness of a Byzantine brocade. It's like a moiré effect distracting you from a defect in the tapestry.
La Petite Robe Noire Couture by Guerlain is daring with its overdosed cherry note, in this context. You realize also how it riffs in fact on the oft-noted cough-syrup facet of L'Heure Bleue. Delphine Jelk and Thierry Wasser did nothing more, in a way, than extract a characteristic nuance belonging to the classic DNA of the brand, and modernized it. The heliotrope has morphed into black cherry juice.
Terracotta Le Parfum by Guerlain smells nothing like the old carnation composition Terracotta Voile d'Eté from 1999. It goes more in the direction of Songes by Annick Goutal. Nice tropical breath lifting the tiaré and frangipani. Nothing original. It's about a voluptuous floral texture and summer to simply be enjoyed without second-guessing.
Rihanna Rogue has finally made it to the French market! Need to revisit this one. On paper, it smells like a particularly sensual skin perfume - very well balanced. If you're looking for a sexy scent, try this one on skin and see how it plays out for you.
L'Occitane au Brésil line: "My favorite", if I had to choose, would be L'Eau de Cologne Vitória-Régia Nuit. They all propose new, fruity nuances which succeed in feeling exotic - a positive. We're moving away from strawberry, cherry, raspberry and peach. On the more negative side, they tend to dry down to insipid fruity-florals with a toiletry aspect.
Yves Rocher Collection d'Eté 2014. The eau de toilette by perfumer Francis Kurkdjian is fresh and pretty with a mimosa-like facet. Need to revisit it on skin. The nose's other work for the brand this spring, Cerisier en Fleurs may smell of cherry in the end, but it also recycles a major green and grassy quote from the discontinued Grass by Gap from the 1990s.
Here are some of my notes from memory. Found a "hidden gem" which I am saving for a review.