Balenciaga B.: in Search of More Purity & Simplicity (2014) {New Perfume}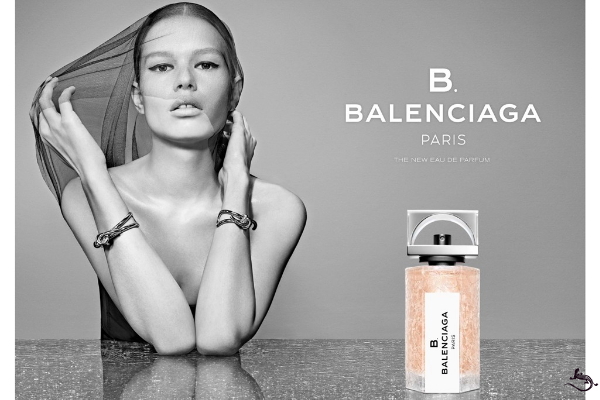 A New, Progressive Chapter for the House, According to Alexander Wang
The house of Balenciaga will release a new women's fragrance from October 2014 called B. The minimalism of the name reflects new artistic director Alexander Wang's wish to offer a Balenciaga perfume which would suggest purity and simplicity...
Wang explained that he had to tackle the fragrance development project practically upon arriving in the house. He said that he had a personal vision of what he wanted to achieve while respecting the house DNA,
"Each element was a process that took a lot of evaluation as to what's been done before and what hasn't been done before," he told WWD. "It took a lot of soul-searching, but I really wanted to do something quite pure, as I see it as a step forward for the house."
The fashion designer also reflected on the similitudes and differences between the two arts and crafts branches, stating,
"Designing fragrances and designing clothes and accessories are both emotional. But fragrance is much more scientific, while in bags, shoes and clothes, there are a lot of tech parameters. With fragrance, it's a whole different ball game."
Finally, the new composition bears his intimate olfactive preferences and is not just a reflection of the spirit of Balenciaga.
"I've always been attracted to scents with strong green notes, and we also added a darker woody flair to it,"
The eau de parfum was composed by perfumer Domitille Bertier of IFF. The head notes are fresh and green with lily of the valley bells, a violet green leaves accord and more originally, a green, vegetal edamame accord; the heart is woody with tonalities of iris root and cedarwood; the base is both musky and woody with the natural, vegetal musky scent from ambrette seeds blending with cashmeran wood.
Model Anna Ewers is the face of the upcoming fragrance. Wang wanted to create a sense of mystery and wanted a veil, but nothing "too restrictive", an interesting sartorial observation in the context of societal debates on the doning of veil by Muslim women in European societies.
Via WWD