Nicolaï, Parfumeur-Créateur Musc Monoï (2014) {Perfume Review & Musings}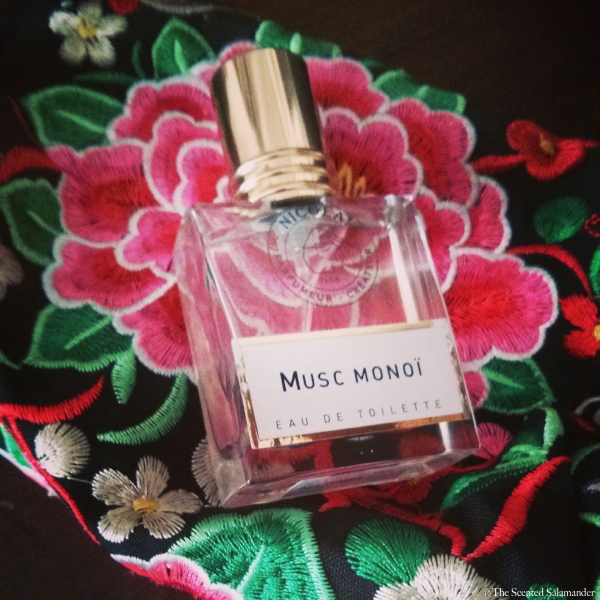 Travel-Approved for Summer 2014
The opening of Musc Monoï, the new opus by Nicolaï, Parfumeur-Créateur, reveals a subtle rendition of Monoï oil with a naturalistic, 3-D petal of tiaré / magnolia / jasmine profiling itself in the picture. In the background, the dominant impression is unexpectedly...of aldehydes, colored green (with neroli?). if it's not aldehydes - they are not listed in the official fragrance notes - it's as fizzy and on the side of harsh and mustard-y as can be.
To be on the safe side, we will say that there is an aldehydic effect. In this phase, which prolongs itself, it feels like a part of Chanel No.5 decided to dress more simply - perhaps even go in the nude as the aldehydic impression feels stark and raw and pure. For a time, it's about this nuance only. It's Chanel No.5 by the sea...
The Monoï has completely disappeared from the scene while a subtle note of tiaré/magnolia scents the composition as if it were a home fragrance diffusing discreetly in the corner of a vast, airy room. Little by little, the magnolia mingles with citrusy accents while remaning very low-key, both sophisticated and experimental-minded. The sensation is quite special. It feels as if perfumerPatricia de Nicolaï has come up with a novel way of structuring a perfume. The amplification of the magnolia note is extremely gradual and subtle, yet perceptible. The fragrance composition creates the sense of 3-D space; it is a theater stage on which a minimalist olfactory event takes place: a scent diffuses itself, permeating the air. The perfume takes shape, not as is usually the case as a story between skin and air but as a small universe contained within the perfume construction which uncannily, somehow, mimics the architecture of a room.
The magnolia note becomes lovelier and lovelier overtime - very slowly so. It fleshes out its scent transforming itself from a sophisticated personality to a sensual one yet retaining an amount of decorum, always.
Patricia de Nicolaï has used an extra slow motion method of floral development which is virtually non-existent in a world bent on evolving faster and faster. If the Slow Food movement exists and is well publicized there is no Slow Perfume organized movement although a few, rare perfumes are philosophically and aesthetically inclined to stop the passing of time in accelerated motion thanks to their work on delayed development which can be both intricate technically and complex, when a variety of nuances is sought out to pave the way to a very long development. Here, we think of Chanel Sycomore (2008) and its complex, protracted drydown.
With Musc Monoï, you are literally invited to stop and smell the tiaré / magnolia as if you were in a garden with not a care in the world, intent on spending the next hours studying and memorizing the scent of the flower.The aldehydes gain strength again at this stage, with their couture feel.
This is an über elegant perfume which refuses to cave in to the stereotypes about tropical perfumes. If you want to smell the polar opposite in personality of an Escada tropical concoction, this is it. The floral motif remains delicate yet undeniably carnal and evocative of tropical climes. But it's done with restraint, subtlety and elegance, as if almost, it couldn't help itself.
This is why it is a bit surprising to this critic to re-read the information that the composition is all about hot skin, the beach, summer and Ambre Solaire. The title musk note is not at all pronounced. Everything is both tasteful and innovative - even experimental in tone. To us, there exists a discrepancy between the official discourse about the perfume and what has sprung in the end from the interiority and personality of Patricia de Nicolaï.
Her reflection might have been nourished by the new reformulation of a younger Chanel No.5 with Eau Première, as well as by the fizzy, aldehydic eaux by Serge Lutens, but Musc Monoï clearly shows originality as those references are more in the Zeitgeist than in the perfume at hand per se. You cannot help but notice that those productions are signed in part by perfumer Christopher Sheldrake who works both for Chanel and Serge Lutens, hence a sense of coherence as to what is being olfactorily explored here. But Musc Monoï is different.
To be noted also is the use of Calone to create a very interesting sense of space by opening up the imaginary motif of a large, airy room inside the perfume instead of evoking the beach or maritime breeze. This also coheres with the fact that the house of Nicolaï is known for its home fragrances. This month in June, the flower of the month for them is Tiaré. We were able to smell the scent created for their diffusers: it's a more straightforward reference to Ambre Solaire. The perfumer has made sure to distinguish a scent that is worn from one which is smelled in a room - Musc Monoï is much subtler, sophisticated and intellectual, yet, somehow, it gains an element of intrigue from the nose's work on scent diffusing in space.
Fragrance notes: neroli essence, limon essence, essence of petit grain of Paraguay, ylang-ylang essence, magnolia blossom essence, jasmine, coconut (Lactone), Calone, ylang-ylang absolu, Mysore sandalwood from India, and musk.