Van Cleef & Arpels California Rêverie (2014) {Perfume Review & Musings}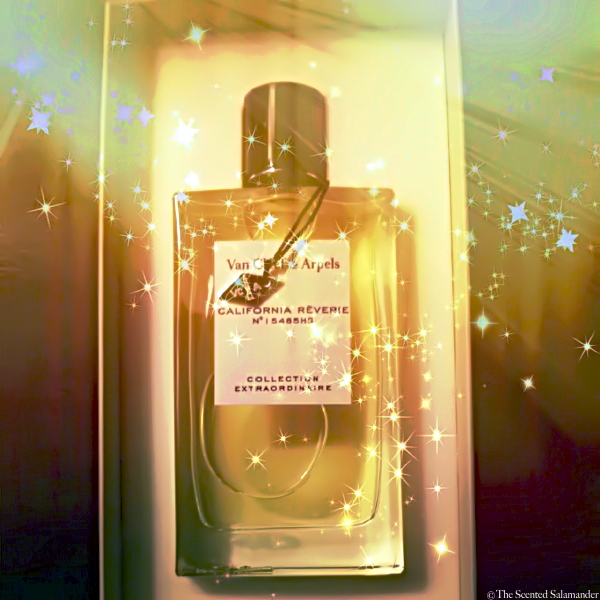 A Reverie rather than an Intense Dream
California Rêverie is the latest opus in the Collection Extrardinaire by Van Cleef & Arpels, the upper-echelon fragrance library more on the side of perfumery intransigeance and beautiful smells than adaptation to fashion and enhancement of appearance: the beauty of the materials and/or the composition are in principle better highlighted calling attention to themselves rather than subjecting to the ego of the perfume-wearer: not too loud, not too disruptive, not too this and that. Except that a person still has to wear that perfume...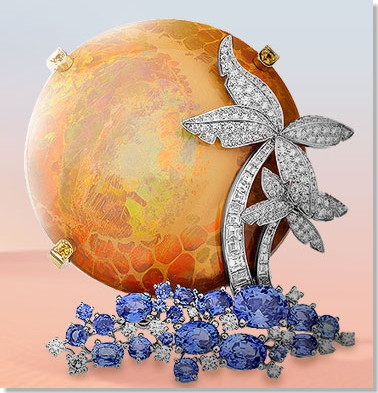 The art and craft of perfume is filled with this basic tension and nowhere is it more apparent than in an intelligent composition where a dozen parameters are considered. It can result in a perfume which is more remarkable for its balance than its personality.
The bilingual title is on one level the perfect replica of the name of Cartier new jewelry collection and therefore speaks of coherent branding, even overly coherent branding. Why not rather make perfume a distinct addition to Paysage d'Opale clip, Desert Flower brooch and Big Sur ring by giving it its own name? It would expand the imaginary universe of the collection.
The title refers also to a cross-cultural theme which is here the dreamlike perception of California from afar by France-based perfumer Antoine Maisondieu of Givaudan who said that he relied on his imagination to render a solar interpretation of California, the most obvious representation of the region. He said, a bit like a painter - and we can think of Turner, "When I composed this perfume, I imagined a journey through dreamlike California, bathed in sunshine. How could I recreate this feeling? Jasmine was an obvious choice. "
A "rêverie" in French is a form of poetic daydreaming. It is a gentle movement of the imagination, which is pleasant rather than intense. It suggests a moment of open, wayward creative thinking during the day. If names are important - as we think they are - and offer their own suggestive level of meaning, then a note of softness is to be expected although when faced with the prospect of smelling a jasmine fragrance, you somehow hope for impact.
California Rêverie opens on a gently indolic jasmine sambac carried by a light amber. The perfume then slowly fades into a more textured and more tightly-blended sensation where the jasmine is less vegetal and more tapestry-like, creating a weave effect together with transparent amber and citruses. Overall, the impression is slightly sweet with a subtle counterpoint of greenness.
Of note is the fact that Antoine Maisondieu added a floral note of frangipani to accentuate the sunny aspect of the fragrance while also using jasmine sambac, also known as Arabian jasmine, which is a fruitier and more exotic-smelling jasmine than jasminum grandiflorum. One may well think that California, which is made of so much dreamlike material - the conquest of the West; Hollywood glamour; the Beatniks; New Age - dreams of itself as being ideally a tropical paradise.
It becomes apparent quite soon that you will need to see how the scent behaves in the air around you as the composition is not structured like a complex painting or poem. It smells good and sunny. It's intent on fusing with both air and skin. It's not meant to call attention to its story-telling details and intricacies of fabric. It's intent on the contrary on letting you forget about what is taking place inside the perfume. It is much more interested on diffusing itself and metamorphosizing itself into perfume between the two parameters of skin ph and oxygen.
The mildly indolic jasmine at first of California Rêverie takes on more strength, intensifying almost like water follows an inclined plane. Its nature, in other words, is revealed. It cannot help itself. It is meant to smell this way. It is about that sensation of smelling a flower at different stages of its olfactory existence and experiencing both its puny, dewy sides and full-on display of genetically pre-programmed olfactory depth when it turns into a trap for insects. This is a soliflore enhanced by subtle, complementary facets, the most important being frangipani.
A certain raspiness surfaces and you think "odd" and "mastic?" but then realize it's the resinous scent not of a green resin but of beeswax. This adds a subtle touch of personality. The drydown is softly vanillic with a perky, citrusy edge. The fragrance is almost veil-like. It goes in the cultural direction of "non-perfume" which is popular in California: it is a preference for perfume as opening up our perception of the natural smells of skin and air, rather than dressing up those overly.
While clearly the materials have been highlighted as expected in a niche-perfumery offering, the structuring of the scent makes it behave like a perfume to be worn rather than admired. It reveals a discreet multifaceted personality surprising you with new nuances throughout the day. This is a not a bombastic jasmine perfume but rather a discreetly tropical and elegant one. It is even on the side of ethereal which is perhaps the level at which the dreamlike movement of imagination can be best felt.
California Rêverie is not a richly imaginative perfume but it did have the effect on this critic of awakening very ancient memories of half-shaded streets in the south of France. There suddently were fleeting images of crossing a street in Cannes, or Nice, or Montpellier a long, long time ago, with the very sensation of the atmosphere there and then, which you had absolutely and completely forgotten. I was surprised to remember those moments impromptu until I realized I was wearing California Rêverie as being the new element in the picture. In other words, the perfume managed to transport me in time to one of the solar places I had experienced in the past. Why this one, I cannot tell. It is perhaps a memory-imprint of Antoine Maisondieu, found in his perfume and recreated with subconscious precision.
The perfumer put his art into making a discreetly diffusive jasmine perfume, which is more tasteful than a big personality of a scent. It seems that he did not quite reach a happy medium, but preferred to err on the side of subtle, which it is. The advantage of this style is that it becomes a raw floral easily adoptable by men. if you know that other jasmine perfume by Maisondieu, Jasmin et Cigarette by Etat Libre d'Orange, well, it you get a whiff of cigarette smoke while wearing California Rêverie, It then is reminiscent of it, minus the cigarette note. It is up to you to see what show you expect your jasmine perfume to put on. For one thing, it is a jasmine sambac opus, which is noteworthy enough for jasmine lovers. This is certainly more of a gentle night music than a rock 'n roll concert yet it is at the same time persistent and expressive throughout the day, leaving persistent traces on your clothing. California Rêverie is more on the side of sartorial wearing than picture-gazing yet manages to highlight a delicate and much sought-out scent of the jasminoïd family.