Creed Acqua Originale Asian Green Tea (2014) {Perfume Review & Musings}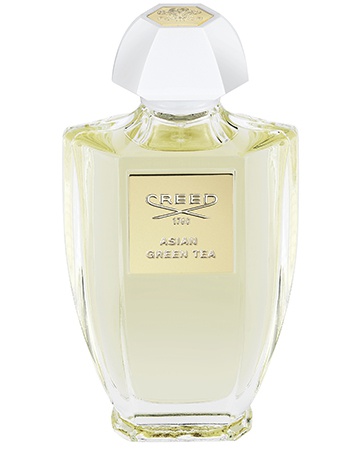 A Trace of Tea
The new Acqua Originale Asian Green Tea by Creed smells so much better on skin than on paper, and much less conventional too since it relies on interesting nuances. Past the swoosh of citruses, like a mini explosion of fireworks, there are anisic and fruity nuances. The citrus note does not relent but I'd say quickly enough loses its transparency to let the more Oriental base shine through. The two indulge in a pas de deux. There is that slightly blanched impression that you get from some eaux de cologne which seem to have been composed with de-skinned, boiled then refrigerated aromatics and fruits -it's like an olfactory whitewashing of a plump orchard...
The composition is deft at keeping an interesting hesperidic balance with little nose-twisters along the way bespeaking of refinement of thinking.
Going back to the initial, proposed concept of a green tea fragrance, you quickly realize that this is not a realistic tea composition. It is not very tea-like to this nose although a very subtle signature of matcha adds a gourmand, powdery green - in fact, the green powderiness of sweet cassia.
The evolution of the perfume is fine keeping all the threads together while progressing almost imperceptibly towards a peachier and fruitier dominant sensation. You think of osmanthus as being expected in this kind of tea-pavillion of a fragrance.
The development proves to be complex veering into unsuspected new territory with now an iris-y, doughy impression recalling somewhat, something of Iris Gris by Fath.
This being Creed, you think that iris is one of the notes of luxury par excellence, not only because it is costly, but also because it is refined naturally in texture; it would be a note of choice for the house who likes to impose a higher code of luxury.
The only part that evokes Malaysia a bit more naturally for me are the woody notes and a nuance of straw, which reminds me of their thachted traditional houses. And also that fruity, tropical nuance resembling closest, the Carombola or star fruit with its sweet and aqueous pineappley scent, without the bite of the pineapple enzymes.
All in all, Creed Asian Green Tea does offer something a bit novel in the long line of green tea scents originating with Bulgari Eau Parfumée au Thé Vert. This is best felt in the details of the scent than in the overall effect which remains discreet. Again, this is the language that luxury speaks: the telling details, sometimes unseen, only felt. It is an eau or acqua. The code of luxury of the house was perceptibly interpreted in the sense of more restraint and respect of one's intimate space. Look elsewhere for a truly long lasting citrus fragrance. Asian Green Tea plays that game a bit but does not insist on, nor is it interested in winning it. I'd call it a luxury perfume with a semi-abstract style where the motif is not completely inexistent - the re-imagined landscapes of Malaysia - but where the feel of the material is more important in the end than the figurative part. Creed before being perfumiers were tailors and I wouldn't be surprised if their conception of luxury owes a great deal to how you cut a rich material and dress a gentleman, extrapolating this deep experience to perfume.
Notes: bergamot, mandarin, essential oil of lemon petitgrain, violet, heliotrope, rose, sweet cassie, green tea, amber, sandalwood and musk.