New Exhibition in Grasse Looks at History of Beauty in the Bathroom {Scented Paths & Fragrant Addresses}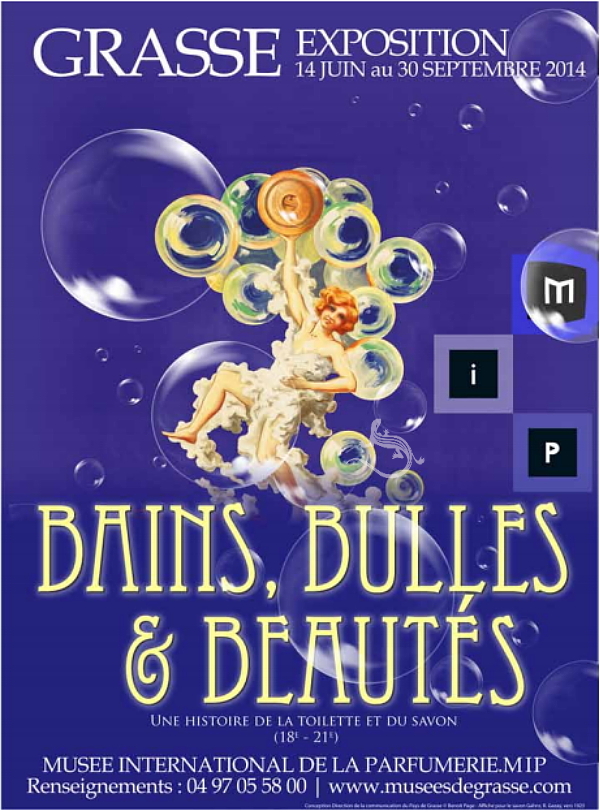 Transforming the Mundane & the Quotidian into Knowledge & Art
The Musée International de la Parfumerie (MIP) in Grasse has inaugurated a new exhibition on the history of hygiene and beauty entitled Bains, Bulles et Beautés: une histoire de la toilette et du savon (Baths, Bubbles & Beauties: a History of Ablutions & Soap), which will run until September 30, 2014...
The exhibit covers the 18th-21st centuries in Western civilization.
A quote by turn of the 20th century French architect Henry Provensal helps you measure how far hygiene has progressed since then. In 1911, he wrote that "it would be a dream if in each lodging, a shower room of small size could find its place." The French, it must be stressed, came around to hygienic culture as we know it, later than the English and Americans.
The approach is described as being both sociological and aesthetic with numerous artifacts gathered all together for the first time, and even installations illustrating our fascination with baths.
Soap is a particular focus. It became a perfumed object in 1579 thanks to the work of Italian perfumers. Today, some request to experience this toiletry item as scentless, finding it even difficult to actually find a zero-scent soap. It actually can't exist because it would smell too foul. So scentlessness itself is perfumed with a minimum of olfactory masking.
The bathroom is another theme of study. And here it has to be noted that the English were the ones who imposed a modern tandard of comfort and wide, fixed space devoted to our bath rituals.
Implicit and explicit eroticism is another aspect which is studied, as well as habits of conviviality around the bath tub. Before Victorian mores set in, it was common to receive people while soaking in a bath. This custom disappears as the bathing body becomes highly eroticized.
The chronological exhibition invites you to open your eyes on all the cultural intricacies and multiple possible scenarios around the simple act of cleaning our bodies, showing that it is not such a natural activity. The quotidian thus becomes a tapestry of historical meaning and even creative potential for artists like Anvers-based Belgian sculptor Jan Fabre with his L'homme qui écrit sur l'eau (2006) showing a series of bathtubs in gilded bronze with one inhabited by a man writing in his bath recalling the historical figure of French revolutionary politician Marat, who died assassinated in his bath as he was welcoming his guest Charlotte Corday.
It can be seen all in all that a soap is not just a soap and a bathroom is not just a bathroom. They are sociological objects.
More information at museesdegrasse.com and Tel: 04 97 05 58 00
The museum is wheelchair accessible and offers a specially deisigned itinerary for visually impaired people as well as one for kids with emphasis on both a tactile and olfactory approach.
Via press release