Parisian Caroline de Maigret Named New Face of Lancôme {Beauty Notes - News}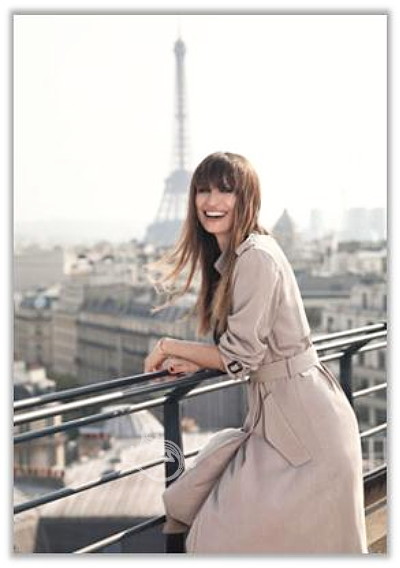 Mixing Wit & Beauty for the First Time at Lancôme
In a renewed attempt to reactivate the glamorous, unique branding myth of the Parisian, Lancôme have announced today that their new beauty and style icon is model and music producer Caroline de Maigret...
The two parties have entered a multi-tiered, incremental partnership which will see the beauty brand accompagny the creative itinerary of their new muse, starting with an advice book in September 2014 and followed next by a makeup range in 2015.
"...Caroline de Maigret is one of the most fascinating examples of the Parisian woman. This is due to her style, of course, which is regularly reported in detail after a concert or runway show: an ultra-chic casualness that elevates careful nonchalance to the ultimate form of sophistication. It is also due to everything about her and especially the fact that she is the granddaughter of a minister who himself is a descendent of a Polish king and a French empress. She is therefore aristocratic, but free, with an eclectic taste that perfectly and effortlessly reconciles an edgy rock feel and good manners."
The upcoming tome is written in the genre of an etiquette book written by a small team of Parisian women offering tips, advice and wit. Caroline de Maigret is collaborating with three old bosom friends, writer Anne Berest, journalist, screenwriter and director Audrey Diwan and film producer Sophie Mas. The book is entitled How to Be Parisian Wherever You Are: Love, Style, and Bad Habits (Doubleday, September 2, 2014).
Lancôme said that they "...saw Caroline de Maigret as an expert with whom they could have an intelligent discussion in order to better transmit a different, liberating form of beauty, a smart mix of indulgence and perfectionism, carefreeness and commitment…" They value her as "...a strong woman, above all, with great intellectual curiosity and an exceptional grasp of people and things."
The new brand amabssador commented, "It's the beginning of a lovely adventure with this brand that I love so much. A brand that offers a different vision of femininity: one that is free, intelligent and that touches both the heart and mind."
Francoise Lehmann, General Manager of Lancome International, adds: "Our relationship with Caroline de Maigret inaugurates a new way of working with women who inspire us by placing them at the centre of our activity. Caroline has this very French form of curiosity and creativity that can be applied with an open mind to extremely varied fields, from art to music, from beauty to fashion. This is a way to revisit every subject, even the most serious, in a light-hearted, enjoyable manner and offer a completely new and surprising vision. It's also a way to consider life as an inexhaustible source of happiness."
Via press release