Thierry Mugler A * Men Ultra Zest (2015): The White in Orange {Perfume Review & Musings}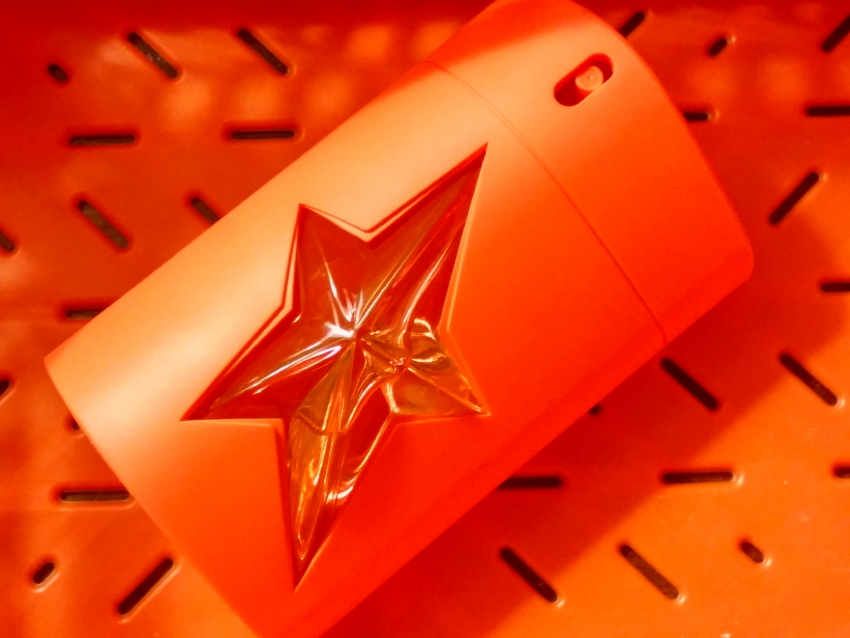 The White in Orange © 2015 Chantal-Hélène Wagner
A * Men Ultra Zest by Thierry Mugler is the 2015 new flanker to A * Men (1996). As mentioned before, the concept seems to be a more radical departure from the woody and oriental tonalities of the more traditional flankers which are in the habit of playing with the men's club atmosphere: Pure Havane, Pure Coffee, Pure Malt, Pure Leather, Pure Wood, or Pure Energy. The most recent composition is co-signed by perfumers Jacques Huclier and Quentin Bisch of Givaudan...
You could possibly expect a gourmand study of the citrus peel since Thierry Mugler like to spend their time in the kitchen experimenting with taste-influenced notes, but I expected myself a systematic study on the clarity and energy of hesperidic fruits and was curious to see this incorporated into a dark and warm composition wondering furthermore if the result would feel like a glove turned inside out.
The very top notes of the new composition are zesty and bright but also dry and "white", in that sense of an "eau blanche", an expression still used by the house of Guerlain for their eaux de cologne which offer an impression of having had their citruses blanched as in the cooking technique while aromatic herbs prolong the sensation of hesperidic fruits smelling more like their pith or albedo - from "whiteness" in Latin - than their outer peel.
The angelic tones of Angel for women appear, albeit much more strongly caffeinated, dark and licoricey emerging from the orange rubber bottle which was so hard to break in. It feels like a workout just having to push down the pump the first time, which actually, we guess, might appeal to men as it is a good opportuity for flexing some muscle.; it amounts to the effort needed for uncorking a bottle of Champagne.
While the zesty orangey nuances seemed to want to escape from the confines of the soft-touch flacon as if they were a plethora of them, the first face-to-face encounter with A * Men Ultra Zest is more about a citrusy facet creating a discreet chypré impression for men, spiced up with quite a bit of dark, bitter and woodsy licorice. The pepper is not very strong.
Where the fragrance recognizes that men in suits need to wear this to the office, it seems, is in the relatively quick abating of the initial strong show of notes. Putting the perfume in the narrative framework of a work day, you imagine that A * Men Ultra Zest is the splash in the face you want - top notes - before stepping out of the house and venturing into society where a more sublte aura is wanted, by many.
The perfume swirls around you with its mix of red fruits inherited from Angel for women, dark oriental notes, also from the mother-perfume, and zesty-bitter citruses. The oriental base with tonka bean comes through subtly with its creamy nuance while the bitter pith continues to squeeze its way throughout the scent. The patchouli is clean and new-generation.
The funny thing though is that the base smells almost of lychee: it is a bit fruity and woody at the same time, like lychees still in their peels smell like. This creates a rather original experience of smelling...a lipsticky, rosy, lychee-like smell but with more pyrazines and smokes than is usual when you encounter the accord.
The volume is also much lower than expected when you encounter it in a women's perfume. If this might sound surprising - and it is to some extent - you can turn to Frédéric Malle Lipstick Rose to verify that men are not forbidden to wear lipstick in perfume form if they wish to in the safe, unisex environment of a niche house. I don't know if men remember the scent of their mother's lipstick, but this could be tagged as a comfort smell for them even more so than for women since it's usually cut off from personal memories of wearing lipstick. And if it's not their mothers', then it's their girlfriends' later on which can leave that kind of olfactory imprint on their psyches.
On a more ironic, Mad-Men plane, it is the scent of the proverbial trace of lipstick on a white collar, a betrayer of illicit sexual impulses which are exposed in the open, when men go back home. That base of Ultra Zest, which is decidedly eloquent, smells also a bit of lychee macarons - yes lychees again, and faint roses.
In the end, it is rather logical to see a fragrance for men, A * Men (1996), descended from a strong matriarch, Angel (1992), feel a bit feminine. After all, brands think like geneticists - in terms of DNA. This is the impression which remains most with me, beyond the ultra zest effect. Rather than an explosion of orange pulp, we get a more paradoxical incursion into the bitterness of albedo.
Here are a few takeaways: the composition is traceable to Angel; it seems to bear a trace of lipstick; It seems also to bear a trace of a woman's perfume. This remains open to interpretation. I think that while clearly betraying feminine touches, a woman would find A * Men Ultra Zest too low-key and too much like the impression of a woman's perfume on a man's skin to wear it without feeling masculinized.
If you're the kind that wonder how to best eat the delicious-smelling pith of a pomelo, well here's one way to put it to good use.
Notes: tangerine juice, blood orange, ginger and mint/ coffee, cinnamon and black pepper /vanilla, tonka bean and patchouli.