Karl Lagerfeld Femme (2014): Cold Magnolias {Perfume Review & Musings}
© Courtesy picture
Unexpectedly, Karl Lagerfeld Femme opens on what the French would call a "lessivielle" note meaning strongly suggestive of detergent cleanliness and powder. This seems a bit of an overstatement, even if the note is popular. Does it have its place in a K L perfume? A priori, I would say "no"...
Parallel to this functional perfumery note, a floral scent opens up suggestive of an abricot-y osmanthus. It is rather pretty and pleasant but nothing that will send shivers down your spine. A white floral bouquet, or rather its illusion, is the name of the game here, with this oily note of stereotypical indoles bordering on cold-pressed sesame seed oil which is usually inserted in bouquets for a more bouffant and substantial effect.
Since the first few moments I had already been thinking of a previous composition by another house, and that would be Nuit de Cellophane by Serge Lutens (2009), albeit a cheaper version of it. Now, a new nuance enters the scene which makes me think even more of the Lutens library, this time quotes from L'Eau Serge Lutens (2010) and L'Eau Froide (2012) and even Laine de Verre with their cold, fizzy aldehydes and stony yet bubbly, soapy frankincense, and with moreover that effect of understated floralcy built on magnolia.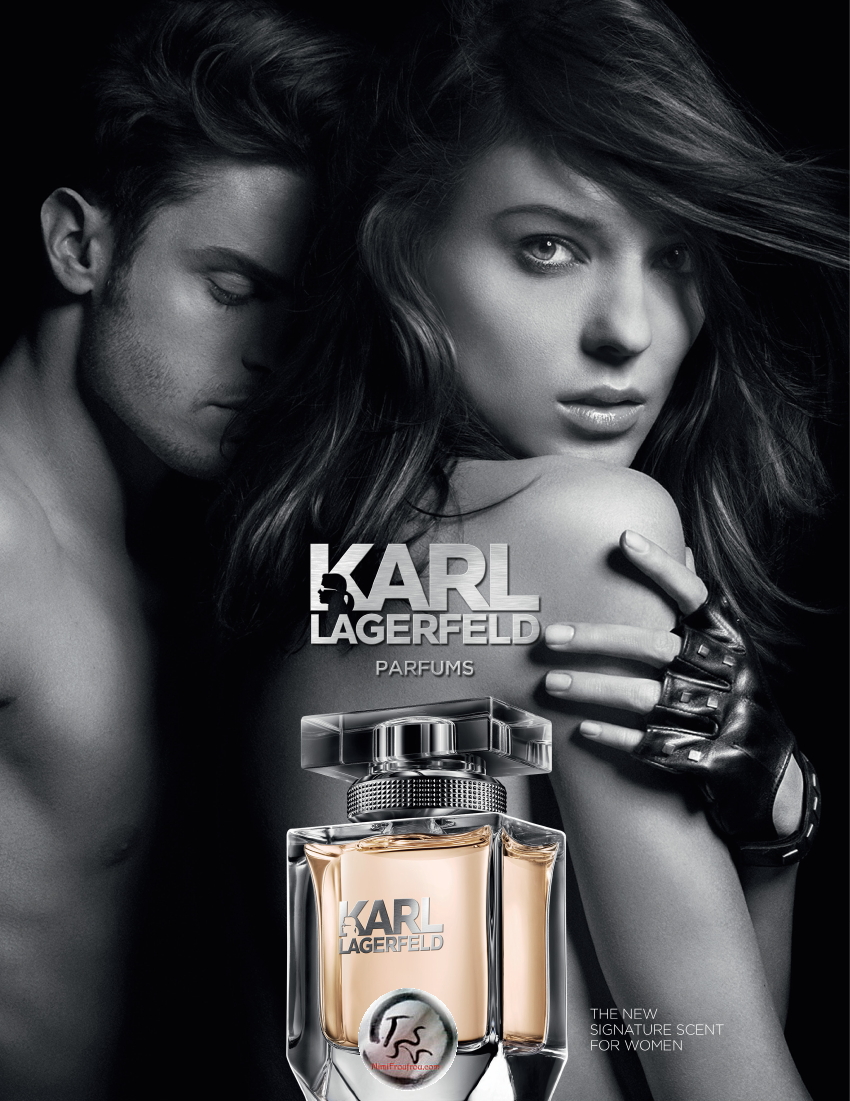 © Courtesy picture
Karl Lagerfeld Femme is cold, soapy and floral. It is a low-volume fragrance. At the precise moment I want to conclude that this is perhaps not a master stroke, I have to replace that sentiment by admitting to myself that this fragrance has a charm of its own.
The floral accord grabs you by the nose, taking a life of its own. It turns from charming to evocative. It is like smelling fresh, white and creamy magnolias strewn in the dark on cold, mossy, humid stones. Or it is like being refreshed by the shade of a dark green arbor in the midst of a secret garden. The floral notes come alive, are lifted from the constraints of the commercial flacon, smelling nuanced and iridescent, like the color and fluttering of butterflies wings. Pay attention to the subtlety of the floral nuances and you will be rewarded. I will go as far as saying that this fragrance offers one of the rarest gifts of all, the gift of emotion.
While I think that credits ought to include the previous works of Christopher Sheldrake and Serge Lutens cited above, I will admit that Christine Nagel and Serge Majoullier offer a sensitive rendition of those two earlier and separate works. As we say in French "cela se laisse boire" to say that something is easy on the palate - an understatement about the perceived qualities of a wine or food specialty, say. In the same way, I feel that Karl Lagerfeld Femme is easy on the skin and nose. It is not a perfect floral fragrance like Beautiful by Estée Lauder parfum used to be in the past at least, but there are beautiful nuances to be apprehended here.
Confessed fragrance notes: lime, peaches, roses, frangipani, magnolia, white musks, ambery woods.