"Taken" ~ "Prise" {Paris Photo}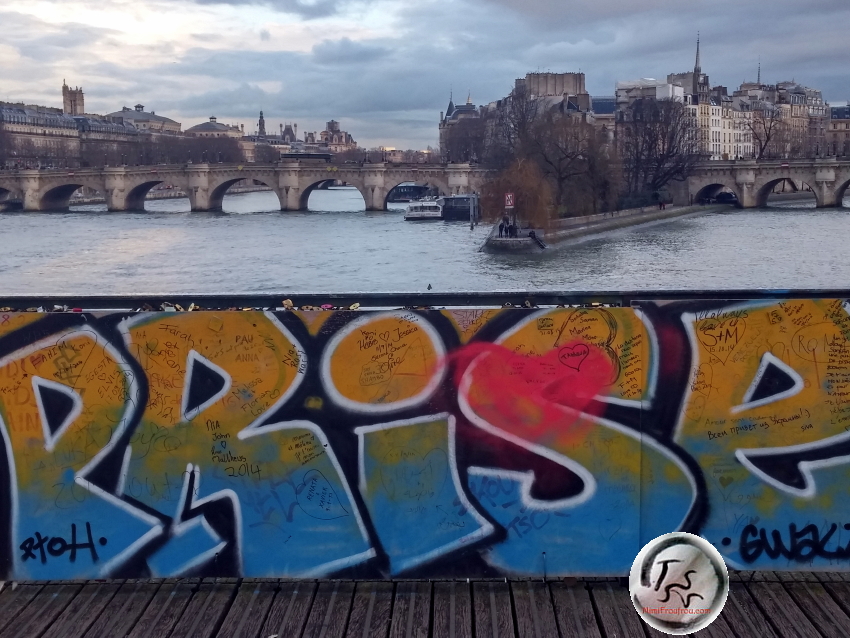 "Taken" ~ "Prise" © 2015 Chantal-Hélène Wagner
The Pont des Arts yesterday on Valentine's Day 2015.
It used to be that you could see through the bridge grids when the "love locks" were fewer and farther between...
Now, wooden boards attempt to discourage adding more padlocks; people just do it on the other side now. The wooden planks however have turned into canvases of sorts where graffiti artists write messages like this one.
It's completely changed the feel of the bridge which used to be 100% romantic. Now, it's edgier, more urban-jungle and grungier too, creating a new horizon line below the classical City-of-Lights one.
It's perhaps one of the most noticeable ways in which the youth culture of the suburbs have made it to the center of Paris.
At the same time, the bridge seems to be in dire need of being more consolidated and safer. In some ways, it also looks more now like a kids playground. People climb on lamp posts, hang perilously on the other side of the rails, while the wooden floor of the bridge seems almost too frail to support the weight of so much popularity.