Estée Lauder Modern Muse Le Rouge Features Kendall Jenner in a Tuxedo (2015) {New Fragrance} {Perfume Images & Ads} {Celebrity Fragrance}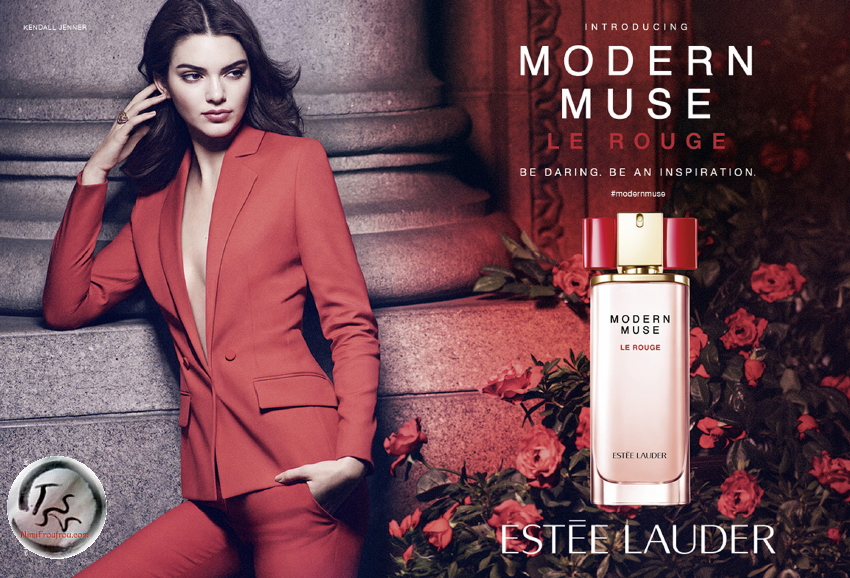 The double-page ad for the new fragrance fronted by Kendall Jenner
Estée Lauder just released their latest new fragrance for women called Modern Muse Le Rouge, which comes to complement Modern Muse (2013) and Modern Muse Chic (2014)...
The ad campaign shot by Mikael Janssen and directed by Jonas Akerlund features Kendall Jenner who ironically is wearing a masculine tuxedo - except for its ruby red hue - at the very same time that her dad Bruce Jenner has turned into a dad-mom rocking super feminine, flouncy dresses and satiny corsets, becoming known to the world as the newly normal Caitlyn Jenner - she said so herself.
Are we allowed to muse that there is a subtle message on "daring" and "inspiring" gender-crossing here?
Modern Muse Le Rouge is a fruity floriental which rests upon,
"a sexy contrast of rich roses awakened by ripe fruits with a velvet cream accord that captures the drama of this muse's personality."
The new composition continues to utilize a perfumery technique encouraging duality of perception called by the brand the "dual-impression fragrance structure." From the start of the franchise, Estée Lauder explained that it was meant to be in tune with the olfactory sensitivity of the perfume-wearer who tends to isolate some group of notes instinctively.
In this case, some women will zero in on the floral aspect while others will be most struck by the oriental facet.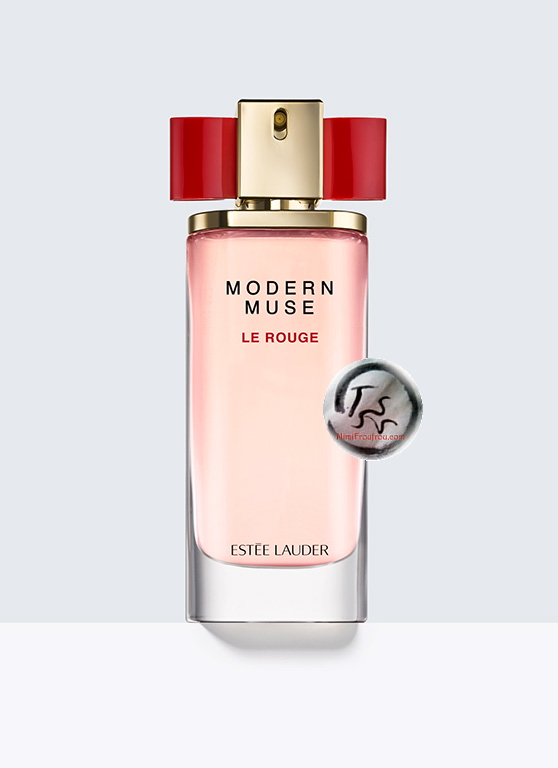 More specifically, a vibrant accord of ripened red roses is contrasted with that of a so-called velvet cream accord.
The first one showcases the juicy fruitiness of Bourgeon de Cassis and Raspberry, contrasted with vibrant Pink Pepper and Saffron weaved with the floral richness of Bulgarian Rose and the petally freshness of Rose Centifolia.
The second accord features Madagascar Vanilla, the muskiness of Ambrette seed, "refined with earthy, seductive" Vetiver and Patchouli - and freshened with the "lush femininity" of Magnolia Flower and Jasmine.
"Suggested Retail Price: $110.00 for the 3.4oz / 100ml EDP, $82.00 for the 1.7oz / 50ml and $62.00 for the 1.0oz / 30ml."
To accompagny the fragrance launch, there is a limited-edition makeup collection inspired by the red of the bottle called Limited-Edition Modern Muse Le Rouge Makeup Collection. It includes:
Pure Color Envy Sculpting Lipstick in Envious, Red Ego and Carnal
Pure Color Nail Lacquer in Envious
Pure Color Envy Sculpting Eyeshadow Palette in Pink Mink
In the fragrance film, Kendall is appropriately seen reapplying lipstick to her lips,
Via press release