Paris Hilton Gold Rush (2016) {New Fragrance} {Celebrity Perfume} {Perfume Images & Ads}
Paris Hilton Gold Rush Eau de Parfum
Heiress, beauty entrepreneur, socialite, now DJ Paris Hilton has launched her 22nd fragrance to date called Gold Rush...
The scent and its bottle are inspired by the Hollywood of the golden age and the glamour it knew how to create and broadcast to the world.
« The captivating beauty of Old Hollywood glamour is sparkling and bright in this sensual fragrance from Paris Hilton. The warmth and radiance of gold and the rush of two hearts colliding are captured in this sweet and woody blend. Bask in the intoxicating glow of Gold Rush. »
The anthropomorphic flacon is shaped after a flowing, gold-lamé gown worn by an invisible busty screen siren endowed with generous forms, sparkling under the Hollywood spotlights. It's a reference to the past but also to the present as red-carpet events have become veritable fashion shows for showcasing evening dress fashion.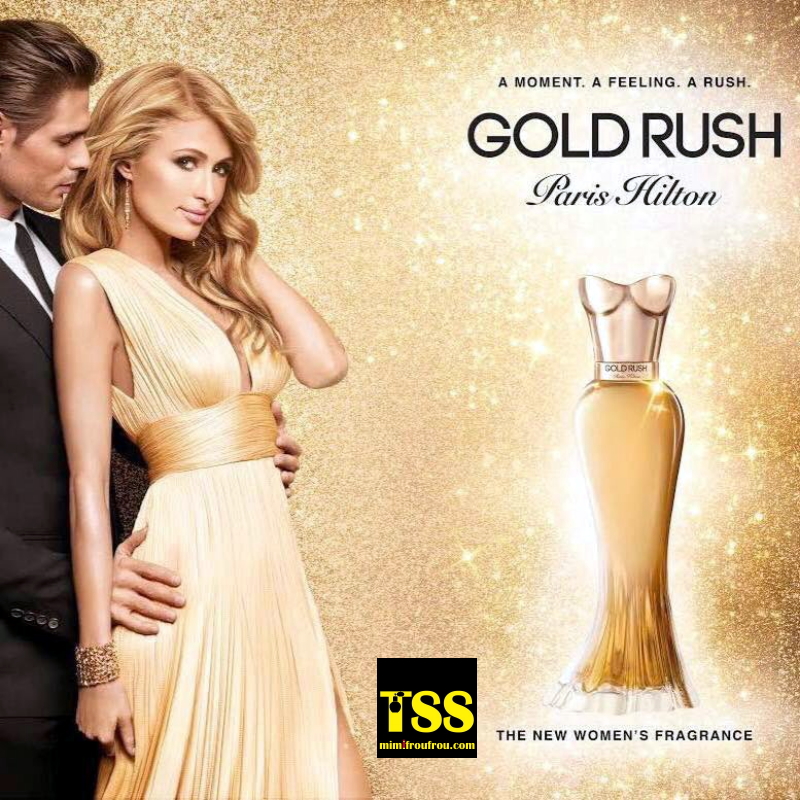 The woody-floral composition opens on top notes of lemon zest, bergamot, mandarin and nectarine. The heart features velvet orchid, rose petals and violet. The base rests on vanilla bean, praline, and Cashmere wood. The tag line is « A moment. A feeling. A rush. »
Hilton talked to WWD about her style evolution saying,
"My fragrances in the beginning were more girly, almost Disney fantasy like with characters in fairy dust and me dressed as a fairy. Now, with Gold Rush, it is more mature and very sophisticated. It's a completely different scent," said Hilton, adding, "I've been in this business so long, I'm a pro at it. I know what the consumer wants, and I know what I want. I've smelled so many scents, and I basically have everything memorized. I always want to do something different from the last one."
The entrepreneur is turning to tech for her next ventures,
"I feel like I've really accomplished a lot with having 17 different product lines, everything from sunglasses to shoes to clothing, makeup, skin care and lingerie. Basically, you name a product, I make it. In that area, I feel like I have done all there is," she said. "I have a lot of different tech companies I'm working with. I am really looking forward to that. I have some really exciting, very cool projects."
She noted that this new scent is particularly good at making you feel confident. See what we mean? Gold Rush, of course, is an autobiographical oeuvre.
Available exclusively at HSN