Hermès Galop d'Hermès (2016) ≈ Blending the Avant-Garde with the Mainstream {Perfume Review & Musings}

Motion Studies by Eadweard Muybridge
Galop d'Hermès Parfum ≈ Perfume Review & Musings
Galop d'Hermès Pure Perfume's official launch date is today, the day of the Assumption of Mary and a national holiday in France. Is it mere coincidence that Hermès are introducing the first major perfumery work by their new in-house perfumer Christine Nagel on a day when a feminine figure - « blessed are you among women » - is honored ?...
The composition is said to be about Doblis calf leather tamed by rose and about a woman who is always on the move. It's about contrast and tension between animality and floralcy. We found out it's also about edginess - another form of tension.
Motion Studies by Eadweard Muybridge
The opening of Galop d'Hermès introduces a tart, acidic, sparkling and, yes, blanched rose note which is like a study on an artistic, avant-garde rose note stripped of its more classical references. Several seconds later, the Doblis calf leather smelled in the vaults of the house appears, rainbow-like yet consistent in its display of leathery nuances suggesting metaphorical accents of butter and angelskin.
What is most interesting is that perfumer Christine Nagel decided to further push the envelope as far as odd notes can be had and bottled inside one flacon. Indeed, very soon, in the midst of the unfolding luxury leather accord, you are able to discern novel olfactive inflections which evoke... cooked legumes - and in particular one can perceive the scent of leeks boiled in water, a traditional staple of the French.
Motion Studies by Eadweard Muybridge
If it is unexpected to witness a facet like this being inserted in a fragrance and a mainstream perfume for Hermès at that, it is less so if you know how creative Christine Nagel can get when she's given latitude to do so. She incidentally just concocted a rhubarb cologne for the house, Eau de Rhubarbe Ecarlate which explains also her current focus on leguminous sensations. Eau de Rhubarbe however is not edgy. It is even rather middle-of-the-road. Having once tested an interesting and convincing accord of hers at the time she was working for Mane, which was the adaptation of Harissa hot sauce to fine perfumery, you know Nagel has it in her to take mundane food staples and fine-tune them, while glamouring them up instead of just being the professional perfumer.
After a while, the risk-taking pays off. For a moment or two, you felt that it might be an interesting attempt albeit a bit hard to stomach. But the composition mellows down, coming together thanks to quince and rose - I smell cassis too - which « fruity-floralify » subtly the bolder, subliminal leguminous signature of leek whites. It is surprising at first then comforting because this is a familiar scent in France.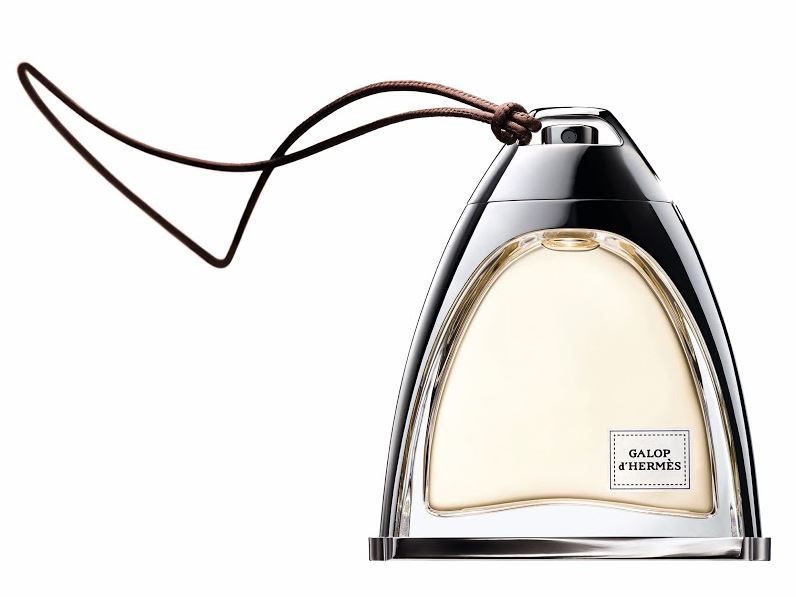 The sculptural flacon is a delight for design buffs
You could argue that, well, some roses smell of artichoke; in fact, Bulgarian rose has to have this facet to be considered truly of good terroir provenance. But Nagel went further ahead than the typical reining-in of the by-product of the use of Bulgarian rose. It really is a long look taken at how far you can push an offbeat, leek-like sensation to upset the status quo of our expectations while expanding the perfumer's palette and our own appreciation of fine perfumery. There is quince in here, but we maintain that it smells stranger than quince.
Remember that for a perfumer, no smells are wrong. Smells are all potentially interesting.This applies to connoisseurs of perfumery too who are not simply on the look-out for ego-based perfumes.
For her first major launch for Hermès, Galop d'Hermès reveals the maestria of a master-perfumer who is not afraid of taking risks and hopes to educate our taste rather than the other way round, where perfume brands tend to be slaves to trends and our lowest common denominators.
When the perfume comes together even more overtime, there is a thrilling sense of discovery because this tart, fizzy leather accord works - thanks in great part to the rose. Rose is a great facilitator in perfumery. It helps you see better the beauty of leather - but also the beauty of the rose. Perhaps we needed to be reminded that the rose is nonpareil thanks to a detour in waters scented with leeks. This crude yet soft scent is aromatic. On its own, you probably would not splash it on. But mix it with luxury notes of rose, leather and saffron and the whole perfume becomes at once edgier and more humane.
Motion Studies by Eadweard Muybridge
In the long drydown, Galop d'Hermès takes on a precious quality of refined, fruity leather which I see as a homage to Féminité du Bois by Serge Lutens, which launched a thousand, nay tens of thousands of ship fragrances on the open sea of perfumery. It is as if saying « I, Christine Nagel, as I am the first woman perfumer working for Hermès, taking over from Ellena and capable of my own, personal wonders, I still want to take stock of a founding father of creative perfumery. And I want to thank Serge Lutens from the depth of my heart for what he did for artistic perfumery. Féminité du Bois thus has to be cited in this work because without it, it wouldn't be. I take the pledge to be a creative perfumer and not just a commercial one. I shall perpetuate this cultural lineage which goes well beyond brands»
You could also read: Stop & Smell the Legumes