Thierry Mugler Angel Eau Sucrée ≈ A Haptic Delight (2014; 2016) {Perfume Review & Musings} {Paris Street Photos}

Barbe à papa I © CHANT WAGNER 2016
Mugler Angel Eau Sucrée Eau de Toilette - A Review
Thierry Mugler launched the flanker to Angel, Angel Eau Sucrée in 2014, and again in 2016, with the confessed aim of making the fragrance serve as an irresistible, sensual bridge to the person you love making you want to nearly eat them up. While Angel is famous for its throwback, childhood and funfair inspiration, it is not usually known as a tender and delicate perfume - quite to the contrary. Mugler explained,...
"With Angel, I've always wanted to create a perfume close to tenderness, to childhood. I wanted to have such a sensual contact with this perfume, that you almost feel like eating the person you love."
The composition, which was reworked by perfumer Dorothée Piot for Robertet to that now avowed effect, is said to rest on three main olfactive delights : a tart red-fruit sorbet ; a caramelized meringue ; a vanilla-patchouli combo.
If we put aside these indications, and smell the perfume first, a somewhat different, more layered and unique picture of Eau Sucrée emerges.
The name « Eau Sucrée » is a bit strange as it seems to refer to a 19th century practice of ingesting a glass of sugary water whenever sick and in need of a tonic. It accentuates the nostalgia aspect of Angel, that atmosphere of coughs and fever soothed by a glass of cold water and sugar in a grandmother's old-fashioned interior. Today, if there are countless sweet drinks to be had, sugary, transparent water - and nothing else - is not one of them. In reality, Angel Eau Sucrée is not an uber minimalist proposition. It is flavored. And it is flavored with fruits, but not just fruits.
If indeed the eau de toilette is more about the foresty berries that the original contains and still about the unmistakable comfort - even soothing - sensation that Angel is able to create in its wearers, it is also about added layers of nuances and possibility - and a new projected personality.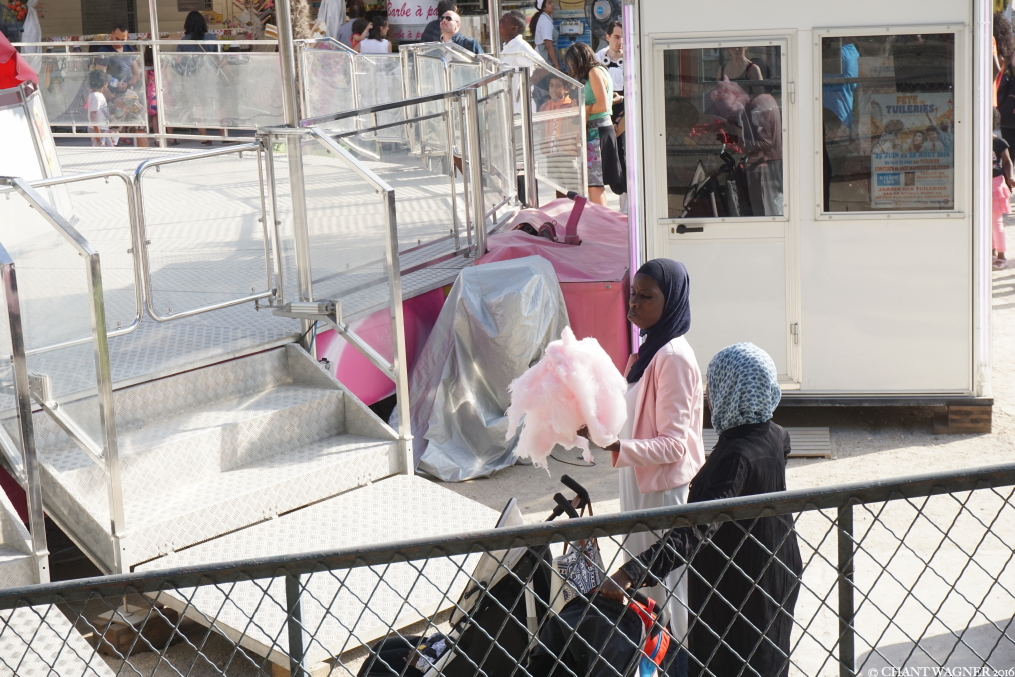 Barbe à papa II © CHANT WAGNER 2016
The original red berries accord benefits from the addition of an unadvertised black cassis note which adds tartness and sharpness to the original olfactory signature. This blackcurrant nuance even morphs into a spicy effect, which can be found in the absolute of cassis. It smells a bit of star aniseed, which is an apt, symbolic shape to evoke when reworking a lucky formula with stars aligned.
This variation therefore is not just about more imaginings about spun sugar. It is also about keeping the idea of candy floss as a canvas, lightening up the jus and adding a drier, more austere character to Angel.
Angel Innocent - one of the well-known variations on the first scent - was more about a doe-eyed red-fruit spritzer sipped by a pool in the summer. Eau Sucrée is gauzier, yes, but also darker, plummier, and black cassis-inflected. It feels both more mature and unisex. It is not impossible that Mûre et Musc by l'Artisan Parfumeur served as a subtle inspiration for this new idea of a cloud-like treat delivered by Thierry Mugler.
Where Angel Eau Sucrée is truly remarkable, we find, is in the - literally - angel-skin effect that the perfume is able to suggest. The drydown is fluffy, ethereal, and yet also very sensual, but also, still, discreet. Independently, it feels like a soft and warm musk aura smelling a bit at the same time of an empty glass of lemonade with leftover sugar melted in it and a trace of the scent of citrus that once filled it. The perfume wears like a silk cocoon and a delicate nimbus. It is a haptic, angelic delight you could almost caress with the tips of your fingers. It smells extremely good.
It is after a visit to Strasburg's cathedral and the Christmas market that we fully realised that Angel the perfume has an extremely soft, angelic side to it. Angel is not just a bold perfume. It does contain that angelic core, that you can perceive when you visit the place of its conception. If you want to experience how the more assertive Angel can be turned into an ethereal second-skin effect, Angel Eau Sucrée is the answer to that.