First Look: Nina Ricci Launch New Collection Lumière about The Light of Day: Aube, Zénith & Crépuscule (2016) {New Perfumes}

L'Air du Temps Aube, Zénith & Crépuscule Eaux de Parfum
When L'Air du Temps, a floral aldehydic perfume with a spicy kick was completed in 1948, it was meant to capture the scent of the immediate post-WWII Zeitgeist. In 2016, the house of Nina Ricci shift the concept to attempt to capture the light of day with L'Air du Temps Aube, Zénith & Crépuscule...
Of the three, Zénith reaffirms the classicism of the original l'Air du Temps by perfumer Francis Fabron and its role as a pillar perfume for the brand. It remains unchanged in new guises.
L'Aube and Crépuscule are diurnal and nocturnal variations of the classic scent. To be exact, L'Aube or Dawn imagines that moment just before day breaks; Crépuscule or Dusk seizes the moment between day and night, a phase of the twilight.
Both recreations are signed by perfumer Calice Becker of Givaudan.
L'Aube becomes a floral amber featuring a powdery bouquet of White Rosa Damascena and iris extract still spiced up by carnation. The ambery facets help to illustrate the ascending movement of the sun from dawn to midday where you will encounter the original version of L'Air du Temps.
Crépuscule or Dusk is in a way Nina Ricci's take on the iconic time of day in perfumery, the blue hour thanks to Jacques Guerlain's masterpiece, l'Heure Bleue (1912).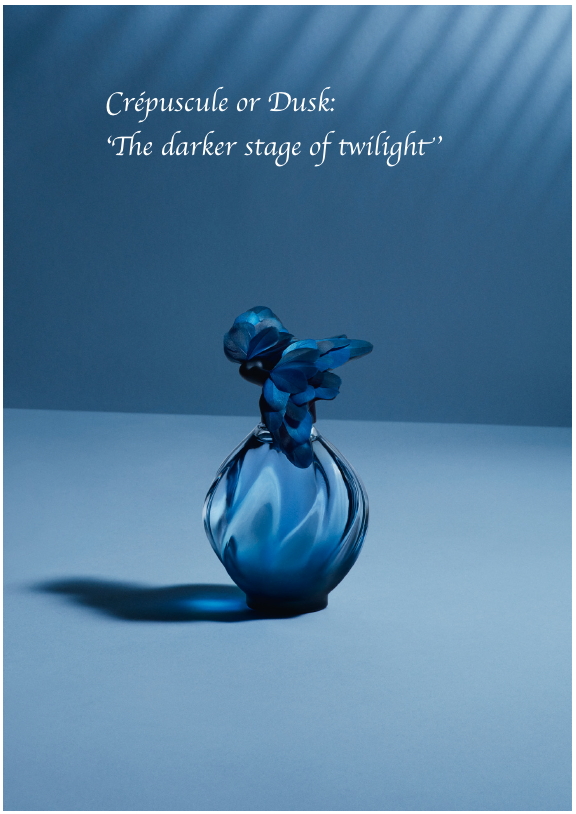 For this duskier reintepretation the perfumer went for a nocturnal bloom, the Belle-de-nuit Mirabilis jalapa which opens up as the sun sets. A note of Salicylate was used to evoke the stream of a river. Vanilla and ylang ylang amp up the sensuality of this variation, with interestingly, two iconic notes of Guerlain. It remains to be seen if this is an indirect homage, like a fantasy Guerlain that never existed but which still makes sense.
Available in a coffret.
Pictures by Thomas Lohr.