Superstitious ALBER ELBAZ PAR FREDERIC MALLE (2017) {Fragrance News} {Fashion Notes}

Courtesy picture © But Sou Lai
Superstitious ALBER ELBAZ PAR FREDERIC MALLE
Editions de Parfums / Frédéric Malle will launch a new designer collaboration with a couturier, Alber Elbaz, formerly of the house of Lanvin. Their new jus has been baptized Superstitious ALBER ELBAZ PAR FREDERIC MALLE, a reference to a shared trait of personality, as both believe in omens...
This is the second time that Frédéric Malle, who is known for his contribution to artistic perfumery and the promotion of perfumers' crafts and signatures, has allied himself with a representative from the fashion world, an industry which culturally has been contrasted with the not necessarily easily wearable aims of the much more confidential realm of « niche perfumery »; his first foray in this type of joint endeavor saw the creation of Dries Van Noten par Frédéric Malle in 2013. Since then his house was acquired by the Estée Lauder cos. Inc., for which he now works as a brand director.
Malle explained,
"I have always admired Alber for making the women who wear his clothes appear even more beautiful. It is all about them and not about himself. Like perfume 'Classics', Alber's dresses are the result of an invisible architecture. Like Alber's dresses, Superstitious elevates the women that wear it, it empowers them."
For Alber Elbaz, this is more than a simple professional collaboration,
"The word 'Superstitious' was the starting point of it all, something we agreed upon immediately. We are both superstitious. It's not about a collaboration, it's about friendship and respect."
The composition is signed by perfumer Dominique Ropion, a long-time collaborator of Editions de Parfums for which he's already created Carnal Flower, Portrait of a Lady or Une Fleur de Cassie.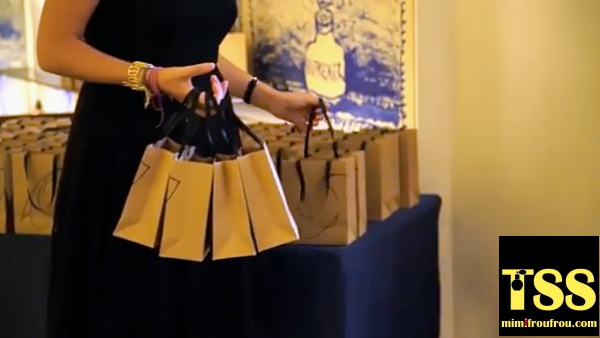 The fragrance was unveiled to guests who attended a ceremony at the French Ministry of Culture where fashion designer Alber Elbaz was officiated as an Officier in the Légion D'Honneur in Paris on October 3, 2016.
The eau de parfum will be introduced to the public in March 2017.
Via press release