Diptyque Co-Creates Fragrance Installation with Italian Artist Felice Limosani at Milan Design Week 2017 - April 4-9 {Fragrance News} {Home Fragrance} {Scented Paths & Fragrant Addresses}
Sablier by Diptyque Marks The Passage of Time in Milan for First Time
French niche perfume house Diptyque is participating for the first time of its brand history to Milan Design Week 2017, which takes place from April 4 to April 9. Within an installation Italian artist Felice Limosani created, they are showcasing a new method of home fragrancing called Sablier, the hourglass, in its generation two version, which lets perfume be diffused at cold temperatures drop by drop in a "hypnotic" manner, inviting you to mark the passing of time with scent...
Limosani explained that in his project, he linked up olfaction with the notion of time,
"Those are two opposite worlds to which I tried to give an aesthetic by using evocative symbols, in particular, the circle, the mirror, the hourglass, and sound. (Editor's translation)
Visitors are encouraged to play with the circles and move around the installation.
The artists added,
"It's a project which mixes different arts such as design, architecture, writing and chromatism, all the while associating the different fragrances of the object with the daydreaming of each person through the time marked by the hourglass." (Editor's translation).
Six different scents are exuded by six hourglasses, each symbolised by a circle with a particular color. Diptyque's selection for Sablier includes Roses, Baies, Figuier, 34, Gingembre and Fleur d'oranger. Baies is something of a cult candle; 34 is the reproduction of the scent of the house's flagship boutique in Saint-Germain-des-Prés in Paris.
Press officer Sophie Bergart explained that,
"The porous central part has been lengthened and the novelty is that there are now 5 porous wicks which receive the perfume. There is therefore a greater surface coming in contact with air to allow for a more intense diffusion of the fragrance.

The cycle of diffusion has also been made more optimal, going from 20 minutes to 1 hour." (Editor's translation)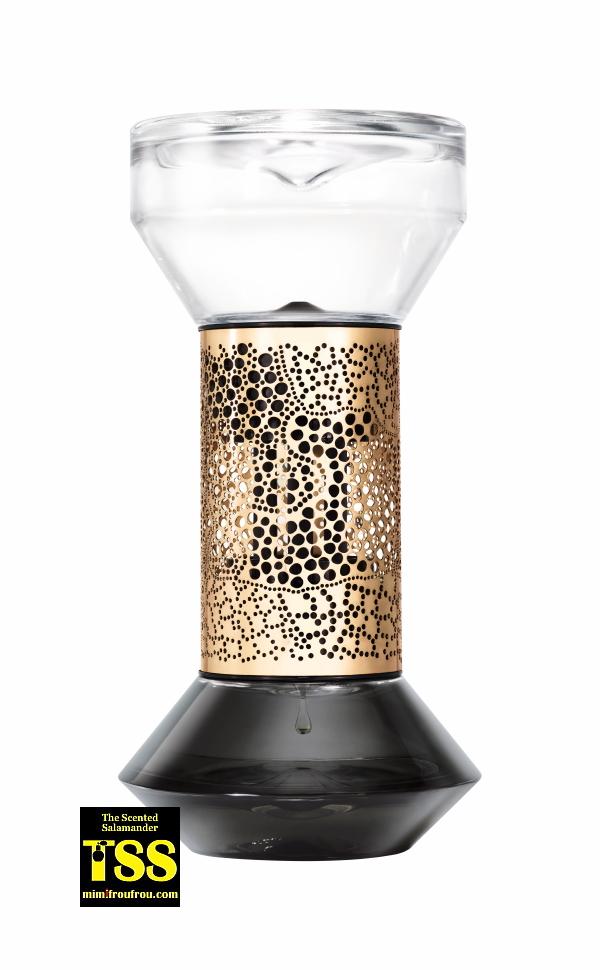 Salone del Mobile Milano is the opportunity for Diptyque to launch Sablier in its Milan boutique as a worldwide exclusive.
International launch is scheduled for May 2017.
Where?
Palazzo Litta
Corso Magenta, 24, Milano - Italy

Diptyque
Via Brera, 23, Milano - Italy
Source: press release