New Perfume: Burberry London for Men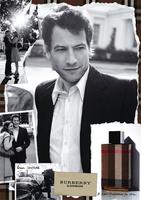 A new masculine fragrance by Burberry, Burberry London for Men will be launched in September 2006. It is meant to renew the traditional image of the English gentleman and Burberry sees its contemporary incarnation as being both charismatic and carefree. This ideal is perfectly embodied in their eyes by actor Ioan Gruffud who will represent the brand's image for the perfume. The scent is the male counterpart to the Burberry London for Women and is part of the house's efforts to celebrate its 150th anniversary.

The fragrance was created by Antoine Maisondieu of Givaudan. Top notes are bergamot, black pepper, lavender, and cinnamon. Middle notes are mimosa, Porto wine, and leather. Base notes are tobacco leaves, guaiac wood, oakmoss, and opoponax.
Flacons of 30 ml, 50 ml, and 100 ml will be available respectively for 44 Euros, 53 Euros, and 70 Euros.
Source: FashionMag