Perfumista on a Shoestring: If you Like L'Artisan La Chasse aux Papillons & Rochas Poupée, you might Enjoy TBS The Spirit of Moonflower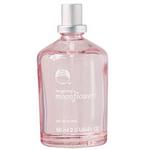 I am inaugurating a new budget fragrance category for the "Perfumista on a Shoestring". How can one enrich one's fragrance wardrobe without breaking the bank? There are two solutions for that; you can scour the internet for great bargains and/or you can try to find fragrances that seem to belong to the same group of perfume-siblings for a fraction of the cost....
A couple of weeks ago I made a little stop at The Body Shop to try some of their fragrances. I was pleasantly surprised by the good quality of both their alcohol-based perfumes and oils. I had recently sniffed Rose Cassis and did not care for it.
My little find of the day was The Spirit of Moonflower. The jus is in a pretty, little pink glass bottle resembling pharmaceutical bottles. I sprayed some on and immediately thought, La Chasse aux Papillons by L'Artisan Parfumeur! Poupée by Rochas! It is about the same type of contrast found between a fresh floral body and a slightly peppery counterpoint.
It smells pretty. I would say that the drydown is more short-lived than with the other two fragrances, but it really has its charm. It is not simplistic. All in all, a worthy buy if you are looking for a casual, pretty floral scent for the summer.
Perfume notes are: Top: melon, green complex, coriander, gardenia Middle: lily of the valley, moonflower, lime blossom, cyclamen Base: jasmine, rose. It retails for $14 and $22 for, respectively, 1 oz and 2 oz.
Poupée can be found also for bargain prices on the net.