New Perfume: With Love by Hilary Duff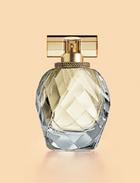 Teen Star Hilary Duff is launching her first fragrance called With Love. It targets women aged from 15 to 24 although Duff thinks it will appeal to a broader audience due to the sophistication of the scent. The star closely monitored the creation of the fragrance saying it took 115 different versions to perfect it.
The juice was created by Quest perfumers Stephen Nilsen and Rodrigo Flores-Roux. "In terms of ingredients, effervescent mangosteen and Champagne represent the "fun and bubbly" side of Duff's personality, while her "complex, sensual side" is highlighted by an accord of textured cocobolo woods."
Updated: there is now a website showcasing With Love, please see my latest post about Duff's perfume.

Sources: The Moodie Report, Women's Wear Daily