The 5th Sense in the News: Authorship in Perfumery, Popular Perfume Talks in New Orleans, Flavor Specialists' Secrets, Bug-Prone Scents, A Sour Trend in Cuisine & Much More...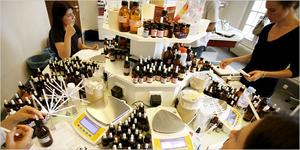 • Is a Scent Like a Song? Oui and Non. A range of opinions on the issue of authorship in perfumery. The New York Times.

• LABS OF TASTE ; Flavor specialists are field's secret weapon. The Times-Picayune.
• Swanky new scent. The Guerlain gala in honor of Insolence and Swank's thoughts on what defines beauty. Gulf News.

• Colorado Inventor Develops Fragrances Emitting Jewelry in US Fed News...
Photo: Ed Alcock for the New York Times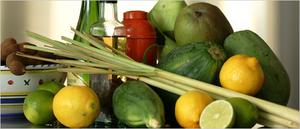 • When the Sour Note Is Just Right. An article on the popularity of sour taste in cuisine. By the way, I concur, see mui are delicious and can be found in chinatowns. I salivate just to think of it.

• Behlar talks about perfumes in New Orleans. Owner of French Bourbon Parfums lectures on the history of perfumes: Salon talk to focus on history of perfumes ; Presentation set for Thursday, 7 p.m. The Times-Picayune.

• What if you could smell fear? From the "What If Column" in the Washington Post.

• Scents of Summer Softer in the St Louis Post-Dispatch. A roll-call of summer fragrances plus advice on how to best preserve and wear fragrances.

• Making Sense of Bug-Prone Scents in the St Louis Post-Dispatch
• When life gives you lemon grass... Use the tart-sweet Asian herb in everything from hot soup to ice tea, an article in the The San Diego Union-Tribune with recipes included.
Photo: Toni Cenicola for The New York Times