Fragrance News: Collector Paris by Yves Saint Laurent (Updated)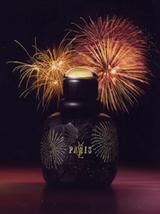 YSL is also releasing a limited Fireworks Collector Edition of Paris all dressed up in luxurious black and gold. It will retail for 49.60 Euros and will be available in travel retail from September 1 2006. This flacon will grace any vanity table, I think. This jus is, by the way, one of the best rose scents on the market. It smells like spring and summer in Paris even if you wear it in the autumn and winter.
Update: It is now available at Nordstrom for $67.50.
Source: The Moodie Report