Fragrance News: 5 New Demeter Perfumes for This Fall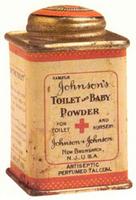 Briefly, Demeter will issue five brand new fragrances this fall between September and October 2006: Demeter Baby Powder, Fierry Curry, Red Head in Bed (hmmm, how is that suppose to smell? I hope it's not an allusion to anything I shouldn't be mentioning here), Ginger Cookie, and Barrier Reef.
Now that picture is suggesting to me a variation on Demeter Baby Powder... how about Demeter Vintage Baby Powder in 1955 with Rusted Tin & Old Paper in 2007? (this is an indirect homage paid to Christopher Brosius) Oh, the possibilities! It's endless, simply endless my friends.

A 1 oz. eau de toilette retails for $19.