Fragrance News: Alamut by Lorenzo Villoresi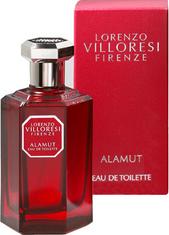 The lastest creation by Lorenzo Villoresi, Alamut, is now available at Aedes and Lafco.
According to Aedes, "The ancient Persian castle of Alamut inspired Lorenzo Villoresi to create a fragrance capturing the opulence of its fabled gardens. Luxurious like brocaded silk and warm like Middle Eastern nights, Alamut unfolds in layers of jasmine and osmanthus. Made intoxicating by the narcotic richness of narcissus and tuberose, the heart of the composition melds into the sensual base of woods and amber. An intriguing and striking fragrance, Alamut marries classical sumptuousness with edgy modern glamour"...
Top note
Osmanthus, Rose, Jasmin, Rosewood and exotic flowers.
Middle note
Narcissus, Tuberose, Ylang ylang, Orange blossoms, Labdanum and ambery notes.
Base note
Amber, Musk, Amyris, Sandalwood, Patchouli, Benzoin, leather and powdery notes.
Alamut Eau de Toilette Spray retails $90 for a 3.4 oz bottle.
Sources: Aedes, Lafco.