Fragrance News: More on Billet Doux by Fragonard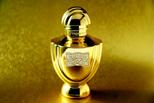 As previously reported, Fragonard will issue a re-edition of a perfume from the 1950s called Billet Doux.

We now have received more information regarding the notes: "Recreated from a historic Fragonard Perfume, BILLET DOUX, pays homage to the most beautiful flowers of the French Riviera: Sweet William carnation, peony and frangipani with accords of bergamot, lemon and mandarin all on a soft background of cedar, vanilla and musk". The perfume will be launched in October 2006 and will be available for purchase from the Fragonard website.

Source: Press release