Fragrance News: Free Sample of Forbidden Fruit by Desperate Housewives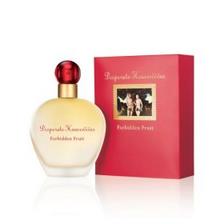 You can request a free sample of Forbidden Fruit here (Update: offer non longer valid). It takes up to 4-6 weeks to receive the sample.
The new perfume based on the popular TV show, Desperate Housewives, is described as a sensual fruity floriental. Each of the five main characters in the series is symbolized by a specific note in the perfume. You can read my previous post about the perfume here.
The fragrance is available for sale at Macy's: