Fragrance News: Prestige Edition for Parfum des Merveilles by Hermès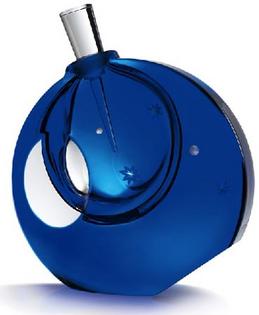 Hermès is releasing a very limited prestige edition of Parfum des Merveilles contained in a blue crystal bottle with a transparent stopper designed by Serge Mansau and hand-blown by craftsmen from the Saint-Louis crystal manufacture. Only 450 numbered copies will be issued to be sold in Hermès boutiques and select department stores from September 2006 for 1100 Euros.
The stopper is prolonged by a crystal arrow that will allow the perfume to be directly applied onto the skin. The flacon will be sold together with an "estagnon" or aluminium bottle of 30 ml and a mini funnel to fill the perfume bottle thus harking back to common earlier practices relative to perfume-wearing where ladies would keep little funnels for just precisely that purpose.
Source: FashionMag.fr