New Perfumes: Lobogal Pour Lui, Lobogal Pour Elle, & Lobogal Gold by Lobogal (Updated)
The Lobogal brand has released three new perfumes, Lobogal Pour Lui, Lobogal Pour Elle, and Lobogal Gold. The brand is relatively recent having been established in 2004 in Paris by the French company BGL-Beauté. The perfumes were created by noses Pierre Bourdon and Valérie Garnuch and the bottles were designed by Thierry Lecoule. Pierre Bourdon is the author among others of YSL Kouros (1981), Davidoff Cool Water (1988), Dior Dolce Vita (1995), Frédéric Malle Iris Poudre (2000), Escada Magnetism (2003), and Franchesco Smalto Fullchoke (2005).
Pour Lui is said to be composed with an "...exotic bouquet of spices from the past, bringing to memory the flavor of the herbal liqueurs which the monks were producing for centuries behind the walls of their monasteries. The extract of whiskey and the way it is used in the olfactory composition adds a true revolutionary spirit, emphasizing both its classical and extravagant nature." Top notes are apple, bergamot, pineapple, white pepper, juniper berries, tangerine, ginger, nutmeg, red pepper. Heart notes are jasmine, lavender, muguet, and violet. Base notes are ebony, mahogany, vetiver, and musks...
Pour Elle is described as "...the fragrance of a classical woman of the future. She is sophisticated, self-confident, and independent."Top notes are orange, red currant, apple blossom, bergamot from Calabria. Heart notes are blue lotus, ylang ylang, peony, freesia.Base notes are vanilla, clove bud, vetiver, cedarwood, and white musks.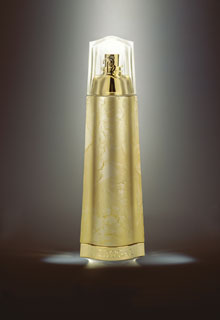 Gold is a women's fragrance whose flacon represents a stylized ball gown, "The fragrance carries you away by the fresh purity of the mouth-watering fruit shower and then dazzles you by the wave of sensuality of a flower bouquet. The femininity of this fragrance intensifies at the end with leather and powdery notes, almost transforming the aroma into an accessory which a woman would always keep with her as a fine concentrate of luxury and sophistication." Top notes are bergamot, pineapple, tangerine, lychee, pink pepper berries, blackcurrant, melon. Heart notes are rose, violet, casablanca lily, may blossom, jasmine, freesia, magnolia. Base notes are ebony, patchouli, vetiver, orris, leather and powdery notes, peach, caramel, raspberry, amber, vanilla, musks.
Lobogal Pour lui retails for 60 Euros, Lobogal Pour Elle for 60 Euros, Lobogal Gold in a 100 ml edt for 46 Euros and in a 50 ml edp for 40 Euros.
Update: The perfumes are not carried in the US yet. You can direct your commercial inquiries to:
Bolero Trading

tel.: + 7 495 761 85 50, or
e-mail: info@bolerotrading.ru

Source: Press release